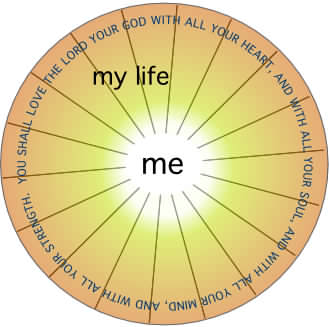 The disciples had a wonderful opportunity to walk beside jesus for three years. One of the benefits was to hear Jesus Christ's messages to the people.
Jesus was not just a highly popular park preacher. He seriously spoke and answered the scholarly religious leaders of His day. Jesus' answers somehow cut right to the heart of all the long dialogues of the teachers of that day. Christ simply knew the answers and told people them. Each question was poised to confound and confuse Christ, but each answer only further affirmed that He was from the Father.
One question seemed innocent enough that any child might ask, "What is the greatest commandment of all?"

This question perhaps was different because the person asking didn't seem to be asking out of intrigue but from sincerity. He had heard so much talk about this commandment and that commandment. Perhaps he himself was getting lost in the trivial nature of so many competing commands that one lost track of who he was obeying! Jesus' answer again amazed the crowd because it was simple, truthful and powerful.

The simpleness of the answer astounded this one quasi-disciple. He was a scribe and busied himself in the task of writing copies of the scriptures. He not only read the scriptures, he wrote them out! Jesus' answer was simply a quote from an Old Testament verse (Deuteronomy 6:4). Somehow the obviousness of the answer did not seem to touch him before. This command was all-comprehensive taking every bit of attention that man had to spare.

The Judaistic religion was tossed aside with one quick blow with these words from the Almighty. Anything not built on this one command is best left in the periphery of life. Only one thing matters - do I love God. Religious habits can be quite impressive but totally without God. This of course is true with Christianity too.

I have for many years studied my Bible. At some points I noticed that my Bible reading was routine and mundane rather than an expression of affection and desire to know God. There was no deep cry from within to know Him and His Word more so that I could better obey Him. At times I couldn't wait to finish my reading and engage in other pressing activities. I would almost let my mind be distracted. I was easily worried. I would never dare say that this reading of His word or study of theology was fruitless, but in fact it had become so at different points.

More important than church
This scribe was spiritually alert. He said, That loving God was "much more than all burnt offerings and sacrifices." We have a hard time identifying with burnt offerings and sacrifices. We can more easily understand this if we say, "We are to love God more than attending any church service." He was not saying attending church or burnt offerings in their time were unimportant.Without the love for God, however, these other activities lose all their meaning.

When at church, I often ask myself, "What is really on my heart?" Am I meditating on the greatness and glory of God or more interested in talking to someone after church? What do I talk about on the way home? Am I thinking about sports, clothes, or what? Is my mind on Him or simply critiquing the worship service? Our excited hearts should respond to worship of our God by, "God is so good. What did you discover about God today? I saw ..." What good is going to church if I really don't love God. This would be like courting someone I don't want to marry!

Jesus was right that that scribe was not far from the kingdom. I wonder how far am I from the kingdom of heaven. How can I step out of my proud religious duties and be captivated with the awesome and living God? Close to His kingdom is not good enough. In I must go. Part of me cannot go. Only all of me can enter His mighty presence.


For more, Reviving our Personal Devotions or Next


Walking with Jesus: Abiding in Christ Series

Jesus responded to their needs. The disciples responded to their resources.

Genuine Friendship
John 15:15-16

I don't want my Heavenly Father to treat me the way I treated my son!

A Vial of Love
Mark 14:1-9

Our relationship with God is to take priority over our works.

Following is Not Easy
Mark 10:46-52

I wanted Jesus to be with me, but I didn't really want to be with Him.


The Lord wants me to sit down and listen to Him.

I was not sure how many prayers I have absolutely wasted.

Staying Focused
Matthew 15:21-28

Jesus found these planned retreats can be rudely interrupted.


Discovering Treasures
Mark 10:21-27

What were they amazed and later astonished at?

Worth it all!
Mark 10:28-31

His disciples would often if not always be required to make a sacrifice of one kind or another.

The Capsizing of Religion
Mark 3:1-6

Many churches just wouldn't want Jesus attend!

Family of Jesus
Mark 03.31-35

If you or I were part of this crowd, wouldn't we do the same thing as they?

Growing Confidence in Jesus
Mark 7:31-37

What Jesus I am following?

A Word on Christian Suffering
John 15:1-2

We didn't do anything wrong to deserve such pruning! John 15:1-2

Genuine Worship
Mark 12:28-34

Anything not built on this one command is best left in the periphery of life.

Dreams to Dust 911
Mark 13:1-3

Jesus felt compelled to take their dreams to the dust.

A Faith of Action
Mark 11:27-33

The world starts getting concerned when the church starts practicing its faith.

The Felling of Fame
Mark 2:1-2

Stopped in my tracks. Time to deal with my desire for fame.

Perspective on Worry
Luke 12:25-26

We are really surprised at Jesus' comments about our worry.

Overcome Fear of Man
Mark 11:27-39

Outnumbered. Outflanked. Out-educated. Compromise was begging Jesus to conform for acceptance.