A Faith of Action
Mark 11:27-33

There always has been a tension between the thinkers and the doers, those who plan and those who act. No doubt this contrast has been played too far at times. We cannot categorically say that those who take action do not think.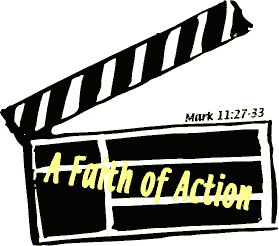 We all probably have a bit more concern for extremists since the recent 911 terrorist act. But far from not thinking and planning, we see that they had fully calculated the plan from the costs to the timing. Their faith was deficient however. Their thinking led them into wrong and hateful activities which now have brought many thousands of deaths.

Nor is it fair to sweepingly state that those in the teaching profession have just sat still in their ivory towers working on their private research. However, there is an element of tension that was brought out when Jesus was charged with being a 'doer.' Some might call Him an extremist. He was willing for His belief to shape His life.

We are not positive as to what Jesus did that so provoked a formal response by the leaders in the Jewish community - both religious and civil. They interrupted Jesus' public teaching and challenged him as to what authority He had done what He had done. More than likely they were pointing to some broken tables and chairs that Jesus had broken on the day or two before when He drove out the money changers from the temple area. They might be able to contend with a teacher who just spoke or taught, but Jesus did more than this. (1)
And they came again to Jerusalem. And as He was walking in the temple, the chief priests, and scribes, and elders came to Him, and began saying to Him, "By what authority are You doing these things, or who gave You this authority to do these things?" And Jesus said to them, "I will ask you one question, and you answer Me, and then I will tell you by what authority I do these things. "Was the baptism of John from heaven, or from men? Answer Me." And they began reasoning among themselves, saying, "If we say, 'From heaven,' He will say, 'Then why did you not believe him?' "But shall we say, 'From men'?" --they were afraid of the multitude, for all considered John to have been a prophet indeed. And answering Jesus, they said, "We do not know." And Jesus said to them, "Neither will I tell you by what authority I do these things." (Mark 11:27-33).
The problem is training. There have been some good movements within the church which have kept her from going totally astray into an arena of death. These movements have helped get the church praying, worshiping, evangelizing, caring for the poor. But we must admit that the typical seminary is conditioning its leaders to think rather than do. This pride in knowledge of tradition or of the scriptures translates down into the beliefs in the congregations. We are proud of our faith even though many times it is dead.

Even so faith, if it has no works, is dead, being by itself. But someone may well say, "You have faith, and I have works; show me your faith without the works, and I will show you my faith by my works."
(James 2:17-18).
The passage preceding this one spoke about the radical nature of a living faith in God. One could actually move mountains into the sea if he actually believed.(2) Genuine faith, as James said, is one of action. Faith without works is dead. We find it intriguing that the Jewish leaders – the chief priests, scribes and elders - (what a gang!) would challenge Jesus on the things which He was doing rather than teaching. Though they could publicly only refer to the action in the temple courts, they seem to clearly have had problems with all the things Jesus was doing. His actions were so closely interwoven with what Jesus was teaching and believing, that the miracles, the healings, etc. well portrayed Jesus' ministry.

The world starts getting concerned when the church starts practicing its faith. They can tolerate the dead faith which produces no fruit. Why? Because anytime their faith gets in their way, it can be easily shoved aside. They always compromise. They have not learned how to integrate action with their faith.

Some might wonder whether I am suggesting abortion clinic protests, marches for Jesus, ministering to the homeless, buying computers for the inner city children, etc. As long as we look at these expressions of faith, we have totally missed the picture. The issue is not to try to mimic others but to find what God's Word is saying to us and respond to it. (3) There are an infinite number of ways to do our Father's will. But we need to get intensely close to God to make our faith come alive and life-changing. If we do not get close enough to hear Him, then we will not know what to do. This calls for inner and outer transformation, the former preceding the later.

The Lord does not often ask us to do things when we are not ready. There is no sense for Him to ask if we can't or won't do what He wants. There are already enough commands in the Bible that many of His people totally and purposely ignore. But just like the time the Lord confronted Gideon about tearing down his father's idols, we tremble in our weakness about being able to do what He wants.
I have boasted many times, "I will do all you want." But when He speaks, then I tremble. He asks for concrete and specific activities, I fear doing them. Like Moses with his stumbling, I can think of many excuses to what He asks. "Go and evangelize that person over there." "Write an editorial for the newspaper on a touchy topic." "Give that drunk a ride home." He gives us opportunity for our faith to overcome our fears and doubts.





Jesus knew the leaders were not ready to hear His' answer as to who gave Him authority to redecorate the temple yard and help out the desperate. He could not have done it without His Father telling Him to do it. But Jesus wasn't their for publicity. It wasn't a gimmick. Jesus cared about how people disdained His Father's house of prayer. Jesus simply switched the question back to them and confused them.

Jesus had a long list of things He did on earth. John states that the list could fill all the books which were ever written!
And there are also many other things which Jesus did, which if they were written in detail, I suppose that even the world itself would not contain the books which were written. (John 21:25).
They did not come to Him with problems about His teaching but about what He did. We are just too content to have church members do nothing but 'believe.' If we are followers of Jesus, then we should also have works that bring the world into confrontation with the holy Creator.
"Is there sufficient evidence by which others could convict you of being a follower of Jesus Christ?" (4)
Next


Walking with Jesus: Abiding in Christ Series

Jesus responded to their needs. The disciples responded to their resources.

Genuine Friendship
John 15:15-16

I don't want my Heavenly Father to treat me the way I treated my son!

A Vial of Love
Mark 14:1-9

Our relationship with God is to take priority over our works.

Following is Not Easy
Mark 10:46-52

I wanted Jesus to be with me, but I didn't really want to be with Him.


The Lord wants me to sit down and listen to Him.

I was not sure how many prayers I have absolutely wasted.

Staying Focused
Matthew 15:21-28

Jesus found these planned retreats can be rudely interrupted.


Discovering Treasures
Mark 10:21-27

What were they amazed and later astonished at?

Worth it all!
Mark 10:28-31

His disciples would often if not always be required to make a sacrifice of one kind or another.

The Capsizing of Religion
Mark 3:1-6

Many churches just wouldn't want Jesus attend!

Family of Jesus
Mark 03.31-35

If you or I were part of this crowd, wouldn't we do the same thing as they?

Growing Confidence in Jesus
Mark 7:31-37

What Jesus I am following?

A Word on Christian Suffering
John 15:1-2

We didn't do anything wrong to deserve such pruning! John 15:1-2

Genuine Worship
Mark 12:28-34

Anything not built on this one command is best left in the periphery of life.

Dreams to Dust 911
Mark 13:1-3

Jesus felt compelled to take their dreams to the dust.

A Faith of Action
Mark 11:27-33

The world starts getting concerned when the church starts practicing its faith.

The Felling of Fame
Mark 2:1-2

Stopped in my tracks. Time to deal with my desire for fame.

Perspective on Worry
Luke 12:25-26

We are really surprised at Jesus' comments about our worry.

Overcome Fear of Man
Mark 11:27-39

Outnumbered. Outflanked. Out-educated. Compromise was begging Jesus to conform for acceptance.
Notes
(1) Mark 11:27-33 can be compared to similar passages: Matthew 21:23-27 and Luke 20:1-8. Each time the charge came in the last week of Jesus' earthly life and one or two days after the cleansing of the temple.
(2) And Jesus answered saying to them, "Have faith in God. "Truly I say to you, whoever says to this mountain, 'Be taken up and cast into the sea,' and does not doubt in his heart, but believes that what he says is going to happen, it shall be granted him. (Mark 11:22-23).
(3) Many join events rather than do them from heart convictions. Add a little stigma to the action and the crowd disappears quickly! However, we of course should learn from others. We should profit from the convictions of the few to help discern what the Lord has for us to do. We should be, however, Lord directed, not people directed.
(4) This question has been around in different forms for many years. I hope it remains! It is worth asking each year of our lives.