A Perspective on Worry
Luke 12:25-26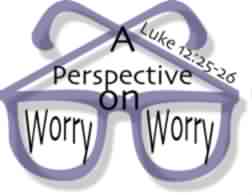 His observations are simple but startling.
Everyone could answer Jesus' rhetorical question. They knew the answer. We know the answer. But how many could come up with the question? Two questions like two lenses are linked together here to help us get a very clear picture of worry.

I am not sure how many times you were caught worrying: a test, a guy, a friend, an appointment, meeting a stranger, being in danger, etc. The list goes on and on. I suppose if each of us made a list of the things we have worried over, we would be really surprised. Surprised at what? Mostly surprised that Jesus' observation is true in every case. Worry never, never helps.


"And which of you by being anxious can add a single cubit to his life's span?
"If then you cannot do even a very little thing,
why are you anxious about other matters?
(Luke 12:25-26, NASB).

Many of us are concerned over our height or length of life. These two terms (1) are said to fit either category. The story is the same. We cannot add inches to our height nor time to our life by worrying. This seems rather indisputable. Jesus is not saying that we do not worry over such things, but it just never does any good.

Let me tell you a story about a two week trip to Russia. I had just got there; I think my first full day. We went out to eat, and I was trying to get our bearings in this totally new culture. I was excited about this evangelism trip for I could evangelize both the Russians through translator and to the Chinese that came across the border. My bags were packed heavy especially with Chinese material. Others have arranged the Russian Bibles, etc.
Everything depended upon walking a long way. We needed to walk about a mile just to get back to our hotel. As I came down the steps in front of the restaurant, I sprained my ankle - maybe broke it. I could see my whole trip just go up in smoke. I babied my foot on the way home, but it hurt. I decided that I was not going to worry. He called me; He would take care of my foot. That night I cried out to God for help. In the morning, my foot was completely well. I couldn't do this. This was something that God needed to care for. He not only cared for my ankle but much more important things as the souls of men.

I am a rather flexible person. I guess I do not worry as much as others. However, I have my failure stories to tell. Every time I worry, it never helps. I remember being lined up for my Junior High picture. I was way off to the side as one of the very shortest of boys. Worry never made me taller no matter how much I despised my shortness. Sometimes I did well on a test or found out that a friend did after all like me, but down deep I knew it was not my worry that helped me.

Jesus' argument is simple. If you or I cannot do a very simple thing like adding height to our bodies or length to our lives, then why should we be anxious about other matters? Jesus uses height as a test case. If it doesn't work there (which is obvious and measurable), then why should it help with other matters?

Jesus gets me a bit frustrated by saying 'gaining inches' or 'prolong life' are only small matters. Either would be rather remarkable. What makes it worse is that He deliberately says 'tiniest" or "smallest" thing (2). I don't think it is a small matter let alone the smallest of matters. Jesus must be speaking from God's perspective and not ours.
For God, these 'stretch' activities are obviously easy. For us, they are impossible. We just have no ability to govern such matters no matter how much we study, exercise or dream. Hezekiah cried out to God for a longer life. God granted it to him (3). We can't change the length of our lives like that.

Jesus is stating that other matters are more complicated. But for God, all things are equally easy. These matters - all these matters that we would worry about - are not in the end controlled by people but by God. Jesus is not saying that we should just give into fate and act lazy because things will be as they will be. Not at all. He is instead trying to help us realize that these are God matters. Only He can deal with them. Let Him deal with them.

Through these two simple questions, Jesus cuts through all the books about anxiety and worry. We worry because we are trying to take God's affairs into our own hands. We are worried about results, timing, looks, height, acceptance, wealth, etc., but God has made Himself responsible for how tall we are, how long we live, where we are born, how wealthy we are, how we look, and many other matters.
The only way is to start letting God into your life planning. I can remember praying for parking places, money, people to meet, protection, etc. Jesus lived this out completely. I have a long way to go to be thoroughly consistent. But I am beginning to learn God has His finger into the details of my life. He does not fill me in with the details, but He does promise to care for me. That is sufficient.


Worry never helps; it only distorts the picture. We need God's perspective on life >>Next.
Walking with Jesus: Abiding in Christ Series

Jesus responded to their needs. The disciples responded to their resources.

Genuine Friendship
John 15:15-16

I don't want my Heavenly Father to treat me the way I treated my son!

A Vial of Love
Mark 14:1-9

Our relationship with God is to take priority over our works.

Following is Not Easy
Mark 10:46-52

I wanted Jesus to be with me, but I didn't really want to be with Him.


The Lord wants me to sit down and listen to Him.

I was not sure how many prayers I have absolutely wasted.

Staying Focused
Matthew 15:21-28

Jesus found these planned retreats can be rudely interrupted.


Discovering Treasures
Mark 10:21-27

What were they amazed and later astonished at?

Worth it all!
Mark 10:28-31

His disciples would often if not always be required to make a sacrifice of one kind or another.

The Capsizing of Religion
Mark 3:1-6

Many churches just wouldn't want Jesus attend!

Family of Jesus
Mark 03.31-35

If you or I were part of this crowd, wouldn't we do the same thing as they?

Growing Confidence in Jesus
Mark 7:31-37

What Jesus I am following?

A Word on Christian Suffering
John 15:1-2

We didn't do anything wrong to deserve such pruning! John 15:1-2

Genuine Worship
Mark 12:28-34

Anything not built on this one command is best left in the periphery of life.

Dreams to Dust 911
Mark 13:1-3

Jesus felt compelled to take their dreams to the dust.

A Faith of Action
Mark 11:27-33

The world starts getting concerned when the church starts practicing its faith.

The Felling of Fame
Mark 2:1-2

Stopped in my tracks. Time to deal with my desire for fame.

Perspective on Worry
Luke 12:25-26

We are really surprised at Jesus' comments about our worry.

Overcome Fear of Man
Mark 11:27-39

Outnumbered. Outflanked. Out-educated. Compromise was begging Jesus to conform for acceptance.
(1) Cubit commonly refers to 18 inches; some say it also is a measure of time (BAG). The word 'picas' (for tiny measurement) comes from this same word (Greek: pechus). Likewise 'life's span' or stature are equally acceptable.
(2) Superlative of short, (i.e. shortest) (elacistov). This Greek word reminds me of elastic (rubber) band. When the elastic band is contracted all the way without any stretch, it is smallest.
(3) "In those days Hezekiah became mortally ill. And Isaiah the prophet the son of Amoz came to him and said to him, "Thus says the LORD, 'Set your house in order, for you shall die and not live.'" 2 Then he turned his face to the wall, and prayed to the LORD, saying, 3 "Remember now, O LORD, I beseech Thee, how I have walked before Thee in truth and with a whole heart, and have done what is good in Thy sight." And Hezekiah wept bitterly. 4 And it came about before Isaiah had gone out of the middle court, that the word of the LORD came to him, saying, 5 "Return and say to Hezekiah the leader of My people, 'Thus says the LORD, the God of your father David," I have heard your prayer, I have seen your tears; behold, I will heal you. On the third day you shall go up to the house of the LORD. 6 "And I will add fifteen years to your life, and I will deliver you and this city from the hand of the king of Assyria; and I will defend this city for My own sake and for My servant David's sake."'" (2 Kings 20:1-6, NASB).