User friendly!
Free to copy, distribute, translate and modify just so it is not for profit.


Cross †raining is a basic discipleship course designed to develop a solid Biblical grounding for Christians in their early Christian walk. Ideally, this material should be led by a mentor. This twelve booklets are founded on Jesus' summary of all the commandments in Mark 12:30-31.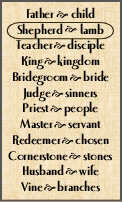 And you shall love the Lord your God with all your heart, and with all your soul, and with all your mind. The second is this, You shall love your neighbor as yourself. There is no other commandment greater than these.
The scriptures integrate our relationship with God with the relationships with other people. We cannot grow in our relationship with God more than we are willing and able to grow in our relationship with other people. The opposite is true too. We cannot grow in our relationship with others any quicker than we grow closer to God.

Shepherd Lamb

The Shepherd-Lamb image powerfully communicates God's good care for His people. He is our Shepherd who genuinely cares for us. He sent Christ to die for us. It was the only way He could make us His own. And since we are His, He lavishes His love upon us. This powerful sense of caring so transforms our lives that we are expected to extend His care to others.
Advantages of Cross †raining

√ Flexible to meet the needs of the student.
√ A balanced understanding of spiritual living.
√ Emphasizes imitation of Jesus Christ.
√ Integrates needed Biblical doctrines.
√ Uses familiar relationships to illustrate Biblical truths.
√ Lots of practical applications to daily living.
√ Teacher suggestions are provided with the discipleship kit.
√ Free to copy, modify, distribute and translate only not for profit.