In one sense, we do not need to go beyond the simple fact that the Lord has told us to confess our sins to Him (I John 1:9) and to one another (James 5:16). The Lord has said it, therefore we will do it. But because we are trying to understand the good designs of the Lord, let us try to answer the question,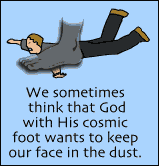 Some of us might think that God just wants to make us feel bad. Quite the contrary. God can make us feel bad without the confession part! He could just leave us alone with His wrath and anger. Confession, however, is designed to bring healing and restore relationships. The spite, haughtiness, anger, revenge, malice all bring about poor relationships. By putting them aside, we bring healing.

"But now you also, put them all aside: anger, wrath, malice, slander, and abusive speech from your mouth." (Colossians 3:8, NASB).

Instead we deliberately strengthen the bonds of our relationships when we purposely love, comfort, acceptance, peace and joy.
"And so, as those who have been chosen of God, holy and beloved, put on a heart of compassion, kindness, humility, gentleness and patience; bearing with one another, and forgiving each other, whoever has a complaint against anyone; just as the Lord forgave you, so also should you. And beyond all these things put on love, which is the perfect bond of unity. (Colossians 3:12-14, ).

God's greater purpose is to bond us together so we can work together with Him and others. If confession is not properly carried out, then what could be mended stays shattered bringing disappointment and loneliness to all. God's beautiful designs are shown through His commandments. Confession leads to healthy and beautiful relationships.