Book of Ecclesiastes: A Life Commentary Series
Searching for Significance
– The Bible Teacher's Commentary –

Purpose: Call God's people to live
in light of our heavenly calling in Christ Jesus.
Articles on the Book of Ecclesiastes
Solomon had backslidden. When others looked at his life, it seemed wonderfully fulfilling. But when he looked back at his life, he realized that the deeds, pleasures and great accomplishments meant nothing without a close relationship with the Creator. Solomon had a great concern for those caught in the deception of life.
The Book of Ecclesiastes stands as a very relevant challenge to modern living in our hedonistic age. His own life story is even included!
Free audio mp3 sermons and powerpoints included!
Ecclesiastes introduction & overview
Down deep in Solomon's heart, there was a seed of corruptness that was not kept under self-control. It grew out of control and distorted his life perspective. Only later in life, did he finally observe the difference between life and living. Life could not find its meaning in the many projects that he had involved himself in. They only became distractions to the real meaning in life, only found in God. God was near his heart but not his first love. He loved other things more than the Lord. His life before this writing clearly showed this.
Ecclesiastes 2:1-11
We can understand a lot about our lives if we simply look at those things that we spend our 'free' money and time on. These are the things that people chase after–their pursuits in life. But we must look beyond them. They provide good clues as to what is important, but they are not very helpful in solving problems or improving their lives. We need to ask a further question. Why are those things that we chase after important.
This is the question that begs to be asked when we begin to look into this passage of Ecclesiastes 2. What is Solomon really after, anyway? His open approach helps us all get a better picture of ourselves. After all, many of us never dare be so honest about our lives, especially out in public.
Further Reflection on the Meaning of Life
This chapter is filled with philosophical insight as we together contemplate on the meaning in life and the special role God has given man. We find four special arguments, though they are very subtle at points, that help the secular man realize that the world is more than what he sees and lives in.
Questions for relationship building in Ecclesiastes 4:10-12. Relationships are important. People are important. Yes, you can get somethings done better without the fuss and time of people and their individual particularities. But in the end, you are saying a lot of what you believe and who you are by the way you associate with others.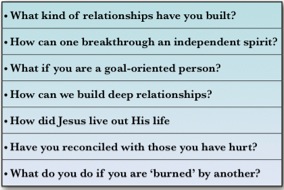 Some of us are people-persons. They are energized by others. Others are task-oriented. Relationships get very tedious. We in fact need each other no matter what our makeup. If not for any other reason, it is to eliminate that chase of the cancerous independent spirit. For that in the end will condemn us. God provides two guideposts.
Independent Success Ecclesiastes 4:9

Ecclesiastes 4:10-12 A Look at Our Lives

Bible Study Questions Ecclesiastes4_9-12.pdf

Ecclesiastes4_9-12.ppt Ecclesiastes4_9-12.mp3