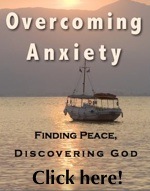 Answers to the Worksheet
Session #3
Recognizing Our Responsibilities
Session #1 gives us _hope_ to overcome all our worries.


Session #2 describes why ____humans__ __worry_.


The choice of __peace__ is the __Gospel_ of Jesus Christ.



Unbelief is seen whenever we are not willing to go by the __clear_ __directions__ God has given us.


Excuses are the way we avoid __personal__ accountability for our own responsibilities.


Inattention is when we do not __prioritize__ what is important and essential.