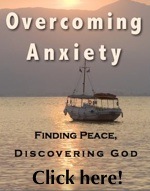 Meditation overcomes worries because of one simple principle.
Our mind can only think upon one matter at a time.
Feel like getting bitter when God chastises you?

What promise is there for you?

"Blessed is the man whom Thou dost chasten, O LORD, And dost teach out of Thy law;
That Thou mayest grant him relief from the days of adversity, Until a pit is dug for the wicked.
Psalm 94:12-13
When our mind is on the worries and how we are going to care for things, then we will worry. But when we start thinking on God's words, the old thoughts and false promises must be put away. The Words of God become our new focus, our new hope and aspiration. We can see how our minds are linked up to either the self-centered nature or the Spirit of God through this passage.
For the mind set on the flesh is death,
but the mind set on the Spirit is life and peace,
(Romans 8:6).
When we open our hearts to God's promises, they become the focus of our mind and begin to affect our heart. New faith comes as the Holy Spirit takes the promise and applies it to our situation. Where we once were controlled by worry, now God's precious words controls our mind and lives.

We can only think about one matter at a time.
By deliberately changing what we think upon,
we set our hearts on God's provisions.