Many Christians think that the Book of Revelation was written to promise them that they would not need to go through a great tribulation at the end of the age. Actually, the Book of Revelation convincingly shows that even in the most alarming and stressful times of persecution, God is in full control.

To the church in Philadelphia, He says, "I also will keep you from the hour of testing that is about to come upon he whole world..." (Rev 3:10).

But to the church at Smyrna He writes, "Do not fear what you are about to suffer. Behold, the devil is about to cast some of you into prison, that you may be tested, and you will have tribulation ten days. Be faithful until death, and I will give you the crown of life." (Revelation 2:10).

Again in discussing the great time of deception in Revelation 13:9-10, He says, "If anyone has an ear, let him hear. If anyone is destined for captivity, to captivity he goes; if anyone kills with the sword, with the sword he must be killed. Here is the perseverance and the faith of the saints."

God is in perfect control.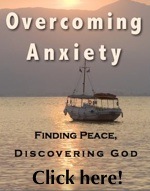 The question is not 'if' but '
when
.'
Even the most faithful Christians will go through distressing times. Notice that God's people are described as going through fires in the following verses, but God will be with them. They might have to walk through rivers, but God will be with them then too.
But now, thus says the LORD, your Creator, O Jacob, And He who formed you, O Israel, "Do not fear, for I have redeemed you; I have called you by name; you are Mine! When you pass through the waters, I will be with you; And through the rivers, they will not overflow you. When you walk through the fire, you will not be scorched, Nor will the flame burn you. For I am the LORD your God, The Holy One of Israel, your Savior..." Isaiah 43:1-3.


Our faith in difficult times is based on two unchangeable truths:
God is our Father
God is willing to help


God is our Savior.
God is able to help.

A Christian's joy comes from
the trust that
God is with him
even in the most distressing times.

Many people are trying to avoid pain. This is understandable. Unfortunately the unconscious life goal of many is to gain pleasure. They do not seek after God but self-pleasure. This god will eventually lead them into a tragic ending. Some for example will follow their lusts into immorality against God's principles of love.

God's faithful people will go through trials of one sort or another. This is typical. Once this fact is accepted, they can go a long way in their faith.

A Christian's joy comes not from the absence of affliction but in the presence of God. This is true even in the most distressing or challenging of times. "And lo, I am with you even to the end of the age" Mat 28:20.

The question that comes to our mind is "Why does God allow suffering?"
Let's see how God's answer to this question becomes a way to overcome deep–seated worries. Next page