This is the first of a series on overcoming various struggles various people face in life. The difficulties are not unusual but they are paralyzing. They have an effect of causing God's people to give up or compromise. We are of course dealing with temptations and their lies.
Paul says that we do not want to be unaware of the devil's tactics. I am afraid many of us are and therefore are prone to failure.
11 Now these things happened to them as an example, and they were written for our instruction, upon whom the ends of the ages have come.
12 Therefore let him who thinks he stands take heed lest he fall.
(1 Corinthians 10:11,12, NASB).

We are not sure on how many tactics the evil one has or how many this series will be able to introduce, but we humbly begin with those that the Lord has instructed us in.
---
"I'm a failure. I give up." Has it ever echoed in your own heart? If so, you have fallen into the evil one's snare.
At times we can say that we are a failure for it can be true. We have failed as a father or mother. We have failed God by being unfaithful disciple. We need to recognize that first of all true conviction of God always brings confession, repentance and restoration. The kind of 'I'm a failure' that is discussed here is not like that at all. It doesn't end with finding freedom because we have confessed our sins, but goes on in a desperate, dull and spirit of failure.
This sense of despair over our lives can enter through various doors but it clenches down on our soul by extinguishing hope. Now often, if not always, the conclusions a person makes is not true. One focuses heavily on ones feelings and relies on their direction rather than truth. The danger of this thought that it can happen so quickly. It is like a plane taking a nosedive.
With a loss of vision, the person takes his or her hands off the controls and just lets the plane go down. We need to realize that the plane will crash if they do not take up the controls again. One might wonder what would ever bring a person to give up on their lives. Successful people will at times even have this tendency to focus on one failure area and then rehearse those feelings of failure again and again. Those on the outside think they are crazy because they are doing so well.
Whenever you have the thought to 'give it all up,' be sure this is a temptation of the evil one. In one sense none of us are protected. We all need God's Word to protect, shielf and deliver us. Some people are more prone to this kind of temptation though. Let us first look at how the cycle works and then make a few suggestions on breaking it. Remember the thoughts have to be very finely tuned to one area of life. The evil one does not want objectivity. He wants subjectivity.
He will narrow ones thoughts down to one line of thinking and get you to think it over and over again until it dominates ones mind.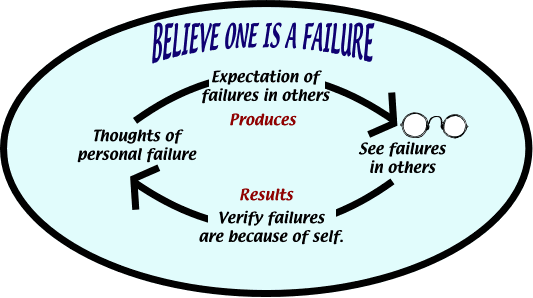 The pattern
What a person truly believes will shape their thinking and perspective. If I believe I am a failure because of the lack of success in an area of life, then I will only focus on those particular failures. Even if it is not true, it is what one believes. It seems the evil one is able to confuse women much more through their feelings and subjectivity (which is a gift). Notice how intense the tract of thinking is. This is the reason the fall can come so quick.

As long as a person believes this way, then he or she will be caught in this vicious circle
There are two ways to confront this: by thought and by action.
1) One must change ones thinking.
From thinking about what is not done t what is done.
From thinking of ones failures to what God's purposes are.
From thinking of what is wrong to what is lovely and pure.
Finally, brethren, whatever is true, whatever is honorable, whatever is right, whatever is pure, whatever is lovely, whatever is of good repute, if there is any excellence and if anything worthy of praise, let your mind dwell on these things. The things you have learned and received and heard and seen in me, practice these things; and the God of peace shall be with you. (Philippians 4:8,9, NASB).
2) Right behavior.
We can sometimes shake up this cycle if we get them to do what is right. This is called obedience. If we just obeyed from the start, then one wouldn't get into the trouble in the first place. He would be bearing fruit.
Colossians 3:12-17 is a great passage, verse by verse to memorize and meditate on. Have them agree to do what is in the passage.
And so, as those who have been chosen of God, holy and beloved, put on a heart of compassion, kindness, humility, gentleness and patience; bearing with one another, and forgiving each other, whoever has a complaint against anyone; just as the Lord forgave you, so also should you. And beyond all these things put on love, which is the perfect bond of unity. And let the peace of Christ rule in your hearts, to which indeed you were called in one body; and be thankful. Let the word of Christ richly dwell within you, with all wisdom teaching and admonishing one another with psalms and hymns and spiritual songs, singing with thankfulness in your hearts to God. And whatever you do in word or deed, do all in the name of the Lord Jesus, giving thanks through Him to God the Father. (Colossians 3:12-17, NASB).