In order to have a pure heart, we must seek for it. We must want it. Without desiring to be pure, we will tend to despise instead of treasure the Lord's teaching on this most crucial topic.
Our goal is a pure heart, unblemished by the world. A pure object is clean and without impurities. A pure heart has no divisions, no other purposes or causes. No distractions from its devoted goal.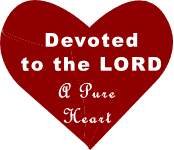 We need to understand that we were designed to have the Lord as our chief affection. Anything less than this is sin and rebellion. Anything that distracts us from the Lord are idols.
Purity of heart goes beyond outward conformity right to the very core of our affections and choices. Many a pastor or parent might be content with only the conservative shaping of their followers' activities. The Lord however looks at the heart.

In this sense, we have a near impossible job ahead of us. For who can know the heart. From our early years, we have but foolishness in our hearts. Pr 22:15 Foolishness is bound up in the heart of a child." More than this is the fact that only God really knows our hearts.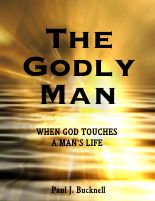 --- Purchase The Godly Man and its ten studies in easy epub or pdf format!
"Forgive, and render to each according to all his ways, whose heart Thou knowest for Thou alone dost know the hearts of the sons of men,"( 2 Chronicles 6:30)

"The heart is more deceitful than all else And is desperately sick; Who can understand it? (Jeremiah 17:9)
However, by the Spirit's work, we should as His children be able to affirm our heart's cleanness to some measure. John says, "Beloved, if our heart does not condemn us, we have confidence before God." (1 John 3:21)

We are desperate for God to initiate and maintain a heart for Him. "And I will give them a heart to know Me, for I am the LORD; and they will be My people, and I will be their God, for they will return to Me with their whole heart." (Jeremiah 24:7)

Let's now describe the reward of gaining a pure heart. =>