Each new year I chose a theme so I could focus and improve on an area of my life. This year was no different, but nothing I thought of that year would have prepared me for this shaping experience. Early one morning, when all was still dark and quiet, I sensed God was speaking to me.

I saw nothing. I heard no audible voices. The Lord was there, however. I do not remember any event or scripture that prompted this event, but I seemed to be thinking about dedicating myself to God. At this time He motioned for me to lay flat on my back. I immediately lay down on my study floor just as if I was on an operating table. And then He stepped closer.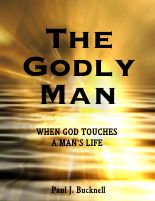 --- Purchase The Godly Man and its ten studies in easy epub or pdf format!

As He approached, I could sense Him scanning my life. I was totally vulnerable. I could hide nothing under the eyes of that surgeon. He searched the deep recesses of my heart.

Then my Lord asked me for the knife. All of a sudden I was aware that He wanted the surgeon's knife that was in my hand.

A deep and intense inner struggle began. If I gave Him the knife, then that would give Him permission to 'cut' away any part of me that He desired. He was the wise surgeon and could see what evil parts needed to be cut out of my life. This was a tough battle. What if he chose to cut away my health, my job, my wife, my children, etc.? What would happen?

Then my thoughts turned to His faithfulness and love for me. If He did, in fact, take any of those things most precious to me, then even this would be the very best for all concerned and most necessary for me.

The struggle got more intense. Only my unwillingness to give Him the knife made the battle so difficult. My brow was sweating. My mind was racing with thoughts about those people and things I loved so much.

I finally gave Him the knife. I decided to trust Him.

I know what that meant. He could do anything to me or those around me. I only asked that He would provide and care for those people and situations about me that I cared for so much.

I did not know what would happen that year.

I had made the decision to trust Him. Although nothing sizable happened that year, I was all the more holy, dedicated, and pure as I affirmed what I had many times said before. I have died to myself and live only for Him.