BUT WHAT ABOUT THE ....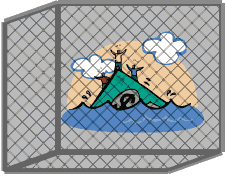 Man with his 'free will' is locked in a box with his inherent evil desires and lusts. Who can set him free?
Yes, I understand there are passages that command man to choose for God or "repent and believe." I prize these ways God reaches out to mankind. But on his own, man will not come. He can't come. Did you not read those verses in the Bible?! His insistence on free will has boxed him in his own world of lust. Let me share just a few passages on God's affirmation of His prerogative to save.
John 16:7-11 remind us of the need for the Holy Spirit to work in the life of the sinner. I understand that probably no one has problems with this kind of interference or persuasion (in a positive light). This would be like a teacher instructing us. My question is when does the Holy Spirit's work interfere with this notion of 'free will?'
"But I tell you the truth, it is to your advantage that I go away; for if I do not go away, the Helper shall not come to you; but if I go, I will send Him to you. "And He, when He comes, will convict the world concerning sin, and righteousness, and judgment; concerning sin, because they do not believe in Me; and concerning righteousness, because I go to the Father, and you no longer behold Me; and concerning judgment, because the ruler of this world has been judged. (John 16:7-11).
John 17:6-9 is much more clear on how the Lord works in some men different than other men. When God works in this way, he becomes saved and in every case they respond to Him. The Lord Jesus did not seem defensive about this conversation with His Father. We can also note the part the will of man plays in all this. These men received what God gave to them. We do not mean to say by our arguments that man does not have a part in this process, but it is a responsive part.

"I manifested Thy name to the men whom Thou gavest Me out of the world; Thine they were, and Thou gavest them to Me, and they have kept Thy word. "Now they have come to know that everything Thou hast given Me is from Thee; for the words which Thou gavest Me I have given to them; and they received them, and truly understood that I came forth from Thee, and they believed that Thou didst send Me. "I ask on their behalf; I do not ask on behalf of the world, but of those whom Thou hast given Me; for they are Thine; (John 17:6-9).
John 6:44 is still clearer.
"No one can come to Me, unless the Father who sent Me draws him; and I will raise him up on the last day. (John 6:44).
Romans 9:15-16 asserts God's prerogative in choosing some people rather than others for salvation. Salvation depends on God's grace and kindness rather than on man who wills or runs.
For He says to Moses, "I WILL HAVE MERCY ON WHOM I HAVE MERCY, AND I WILL HAVE COMPASSION ON WHOM I HAVE COMPASSION." So then it does not depend on the man who wills or the man who runs, but on God who has mercy. (Romans 9:15-16).

There are several passages that seem to trouble people. That is okay. We don't perfectly understand all passages. Most of these 'trouble' passages speak of the 'world' or 'all.' This is interpreted to mean that every last person when a better translation seems to be on the broadness of God's mercy, For example in 1 John 2:3 the whole world should be understood as "all the nations" as in contrast to just the Jewish nation.
And He Himself is the propitiation for our sins; and not for ours only, but also for those of the whole world.
But frankly, if we get tied down in these passages and do not first come to terms with our limited will, then we will not be able to understand what is written so clearly in the scriptures. I am not saying all these 'trouble' verses are not important. I have looked at most of them and studied them intensely. Each verse speaks of God's general call to the world in compassion and mercy.
The main argument of our bound nature is so clear and horrible. We should call emphasize 'bound will' rather than 'free will.' If God had to step into my life for my good, I wouldn't mind it. I suppose a good example would be a stranger walking by and noticing a fast car approaching a small child playing on the road. The driver doesn't see her. The child can't move quickly enough. I rather the stranger come by and pick up that little girl who didn't want to be disturbed.
Grace begins to shine when we give full credit to God's saving power and ashes to our abilities. All by grace. Even the faith that we offer Him is given by Him.
For by grace you have been saved through faith; and that not of yourselves, it is the gift of God; not as a result of works, that no one should boast. (Ephesians 2:8-9).
I don't find myself defending my free will. I can't find the teaching in the scriptures. If you mean that I have a freedom to choose to sin, then yes, that I can accept. But the unbeliever is in bondage to his lusts and needs to be saved. He needs a great and mighty God to break through his selfish world and reach in and pull him out through the merciful work of Jesus Christ and the Holy Spirit. Defend my free will? No.(1) Instead I proclaim the greatness of God's mercy and saving power.

Notes:
(1) We should note 'free will' does begin to have a lot of meaning for the Christian. With his new nature, now he can choose what is good and desirable.