---
Before each one of us, there lies the opportunity of the future. We have an option of either bringing great grace into the future with us, or allowing a wave of subtle and crippling evil into our lives.  The principles of how God works with us in response to our decisions are so clear that if we are thoroughly honest with ourselves, we can be as insightful as a prophet.  We can predict the future on the basis of God's promises and our responses to His commands.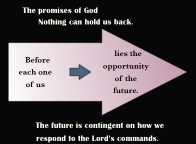 On the positive side of things, we have all the promises of God in Christ. There is nothing in heaven or hell that can hold back His kingdom from those who set their heart to fully seek after Him. We are not sure as to how all of the details work out. In fact, the way God brings success and joy are often through totally unexpected means. The Jews, for example, could not bring themselves to think that God was going to bring an ultimate good to their lives through a Messiah who died on the cross. It was too contrary. It was for this reason that Judas, the former apostle, finally gave up his hope for a new Israel and betrayed Jesus at a low point in his life. We can trust the Lord for success, but we cannot and dare not say how that success might come about. Obedience is the pathway to life. If you are ever confused about God's will, simply follow the little light by the path of His commands.
On the negative side, we can also predict the future from our disobedience. Now I understand that God's people do not run out and do naughty things. If they did, this would show that they are not God's people at all. Satan and temptation are much more subtle than to bait us with a blaring sin. Instead, we find ourselves slipping and sliding into temptation. Deep down in our flesh, there is the willingness for temptation to happen. We must guard ourselves as to how the evil one triggers those old desires with his temptations.  The principles are clear. The Lord has made them so. God promises that blessings will accompany our salvation only if we obey Him. When we do not obey, then God will withhold His extraordinary grace from our lives. The future is contingent on how we respond to the Lord's commands. It is our responsibility. This truth is not something new in the New Testament but has been shown to us all throughout the scriptures.
Joshua, their fearless leader, had already passed away. As chapter 2 continues on, it describes how that one generation that knew Joshua and were influenced by him had passed away. As long as they continued under Joshua's influence, they were blessed. At some point, however, they turned away from serving the Living God. It was at this point that God stepped into their lives and gave them an extremely clear picture of their lives. When God interjects His warnings and promises into our lives, it is always for our good. Whether it turns out to be good is conditional upon our response to what He says.
Do we have to fall into the cycle? Clearly not. Is it easy to fall into this trap? Yes it is. God in His graciousness often steps in and warns us of where we are in the cycle and calls us back to Himself. Judges 2:1-5 provides four observations that we need to be alert of if we are going to stay alert and if necessary return to Him.
A. The Gracious Promises of God (Judges 2:1)
In Judges 2:1 we find God intruding His thoughts into the lives of the Israelites. The Lord the Mighty One did not have to do this but wanted to. I believe He wanted them to know that what they chose to do today would shape their future. They had already gone astray. We can see this in verse 3. God pointed out their sin so that they would repent. If God didn't say anything, then they would simply slide into increasingly worse situations. God makes sure that Hiss Word gets to His people to offer His grace even when it stings. So what did the Lord say?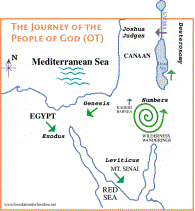 God was calling His people to Himself. Notice how He begins. The words are remarkable. These were not simple irrelevant words. They discussed the Lord's own relationship with them. "I brought you up out of Egypt and led you into the land which I have sworn to your fathers."
If we could stand with the Israelites in Egypt before Moses led them to freedom, they were slaves under harsh conditions. America has only been a nation 250 years. But Israel were slaves there in Egypt for more than 400 years. And yet somehow, when they cried out to the Lord, He heard their cry and delivered them. And step by step God led them out of bondage and made a covenant with them. This covenant was solemn like a wedding vow. When a person enters into an agreement, it will heretofore shape and constrict the way that person will live in the future. Once he or she is married, he is bound to the other for life. You can see a sense of unfaithfulness when a spouse has a different place to live, different bank accounts and rarely relate to each other. The covenant makes no real difference upon their lives. God hates this unfaithfulness in our marriages as well as in our confession of Him.
Notice what the Lord says here. "I brought you up out of Egypt." He is the same One that delivered them that has brought them into the land. He is speaking about how He redeemed them from Egypt to be His very own people. Now he has brought them into the land which He had all along sworn to their fathers.
God made a covenant with them that rested on His promise (this is called the Old Covenant or Old Testament. And He kept it. They now had left Egypt and entered the Promised Land. Most of the time we focus on His promise. This is not bad, of course. But we need also to focus on our part of the covenant. We want the freedom (from Egypt) but don't want the responsibility (to God our new Master). God loves us. He will bless us. This is true but we must remember our part of the covenant. (In Biblical language this is called redemption, a literal 'buying back.)
Every Christian should be deeply moved by the work of God in their lives. We belonged to the world. We thought like the world. We lived like the world. We lived with the world. We were the world and would perish with it, if it was not by God's saving grace in Christ.  But we must understand that God was not just focusing on the giving us of a freedom from oppression but bringing us back under His leadership. He did rescue them from Egypt, but that was just the beginning of a glorious relationship with God. It started in promise and would continue that way. "I will never break My covenant with you." There was a real genuine relationship that was established with God's faithful promises.
And as we look back, whether it was during the time of Moses or Joshua's leadership, God had been really faithful. No enemy could stand before them. They had extra provision from heaven called manna daily delivered to their homes. Even their sandals did not wear out. And now, as they look out into the fields, the land was now theirs. The enemy was largely gone. God did the fighting for them. The battle was the Lord's. God even promised them that as the land was distributed to the different tribes, God would continue to fight for them.  God wanted a people that was wholly untouched by the civilizations around them. He knew what would happen if not all of the people along with their gods and world views were destroyed. God's people would begin to adopt their mindset and this in turn would shape their behaviors. God and His commands would become just another god.
This parallels our own salvation. Joshua means Jesus, 'Savior.' Jesus has led us from the world into His kingdom. He has promised us all we need to do His will. This knowledge of God's love is ever so great and wonderful. His love is to fill us so that we would love others. We have received what we don't deserve.
Application
How shall we respond to this God of love? Truly, with a heart full of commitment. A heart of joy. An overflowing life of grace where we are as God was towards us. Our Christian lives are best looked at as a response to God's great love to us. We love because He first loved us. We can never be the same with His covenant love, sealed forever. We should enjoy His promise of love and life, but we are responsible to be faithful only to Him. We are not just seeking freedom from things; we now are seeking to give our whole hearts to the Lord. => Next