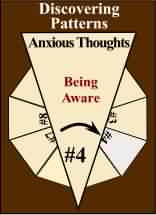 OUR GOAL

Discerning the connection between anxiety and anxious thoughts
Some people like puzzles and fun. They like to purchase books that have puzzles to figure out. In this session we will share how discovering certain patterns will give us a whole new understanding of anxiety. As we explore these patterns of anxiety, we will actually be able to prevent ourselves from falling into worry.

Don't forget to take notes by either printing out these sheets or the worksheet in pdf file. We will leave certain blanks in the notes. If you just keep your curser over the blue line, the answer should pop up. However, if you click the blue line, you will go to the answer page. Then just click the back arrow to return.

Keep up with the assignments, and they combined with the special insights from God's Word, you will by His grace overcome all your anxieties.
Let us first pray.
Dear Father, how often we have fallen when we could have stood firm by your grace. Lord, please let us be wiser in the way we live. Let us be more alert to the ways of the evil one. We need you to give light now. Shine your truth into our hearts that all the evil plans might be exposed and overcome to your great and grand glory. In Christ's Name, Amen.
Take the ten steps over the bride of hope to the peace of God. Each step leads further from anxiety and closer to God and the truths of His Word. Instruction on how to overcome fears, worries and handle temptation for lasting peace.
The BFF Discipleship Training Library also includes this in eBook form!