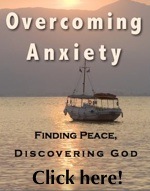 Scriptures help us come to our senses partly because they deal with real people in real time facing real problems. Real people are finding help through God's Word. There are no easy outs, but there are real solutions.

In this particular case we find a wise king who had just noticed a storm of anxious thoughts swirling through his mind.

The verse we just quoted is translated from the Hebrew.
"When my anxious thoughts multiply within me, Thy consolations delight my soul." (Psalms 94:19).
It literally says, "In the multitude of my disquieting thoughts that are deep within me..." The word for anxious thoughts is thought to come from the branches of a tree that go in every different direction. This points to the confusion and restlessness that often accompany such thoughts.

Many have these anxious thoughts but few are able to detect them earlier enough so that they can be effectively dealt with.



When David noticed his chart of worried thoughts bounce off the page, he realized that he would not be able to handle this situation on his own.

Let's look into how we can like him early on detect these thoughts. Next page