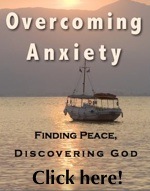 Anxious thoughts are easy to deal with compared to an anxious heart.

Anxious thoughts become worry when they become our heart's concern. Anxious thoughts are looking for insecurities in our hearts to hook onto. If discovered, they grab hold of our hearts. Then like parasites, they attach themselves to our heart, stealing our energy so that they themselves might instead grow.

The scriptures warn us,
Watch over your heart with all diligence, For from it flow the springs of life. (Proverbs 4:23).

Anxious thoughts can come from outside suggestions or from turmoil that is already in our hearts. In any case, the only real reason anxious thoughts become worry is because of some perceived need of our hearts. And so, our insecurities form a hook which the thoughts can hook into.

There are many potentially troublesome thoughts that don't at all bother us. They might greatly bother others but not ourselves. We will worry only about those things that somehow affect our lives. For example, the sea fisherman is not concerned with how much it rains. The farmer might be but not the fisherman. Anxious thoughts seek for insecurities or places of perceived need in our lives to hook onto. If we are getting close to death, we will not get anxious about there being no available partners to marry. We might have other worries.

Let us look at another example, a typical worry of the world.
A person fears he does not have a sufficiently impressive resume.
Possible worry: He might not get a job.

The insecurity: He needs a job to get money to care for his life.

The anxious thought(s) are a temptation that might sound in our mind like,
"Oh look at those resumes. You don't have anything like that. He will get the good job and you will get nothing."
We will discover that we can reject such thoughts, but at this point we just need to begin to identify them as well as the insecurities that they hook onto. In this case we would say that we worry about not having a job, but we should look deeper. Note the reason you want a job. It is because you need money to live on. If you had plenty of money, then you would not worry about the job. The real insecurity is not trusting God to take care of you. If you knew with absolute surety that God would provide for your needs, then the insecurity would not be present.

Going back to session #2, we saw that man's worries began when he doubted God's care for him. An insecurity, then, is any area of my life that I feel responsible to care for. At the times we think those needs are fulfilled, we will not worry. But at any point, we perceive we might have difficulty fulfilling that need, we worry.

The Christian life can be summarized by going through each area of our life discovering different things we care for on our own and give the ultimate responsibility to care for that need back to the Lord. In this case, for example, the man could have rejected those anxious thoughts the moment he spotted two other nicer looking resumes. He could have turned his mind to the Lord and said,
"God, I have done my best. I will trust in your care for me. You know my financial needs. Please help me find a good job so that I can please You. In Jesus Name I pray, Amen."

Remember, if we find ourselves worrying about something, then we know we have some kind of deep need in our heart that is being threatened. No worry is too trivial to deal with. By cleaning out these smaller worries, we can more easily catch ourselves when we start worrying.

Two basic principles must be accepted before we can properly handle worries.
1) Worries are connected to our heart or life's insecurities
2) Our minds serve as guards to thoughts which control our feelings.


Let us now go on and see how this whole process works. Next page.




---

Some people ask what is the biblical support for the relationship between our hearts and our lusts. We can see this in the passage below from James 1:12-15.


12 Blessed is a man who perseveres under trial; for once he has been approved, he will receive the crown of life, which the Lord has promised to those who love Him.
13 Let no one say when he is tempted, "I am being tempted by God"; for God cannot be tempted by evil, and He Himself does not tempt anyone.
14 But each one is tempted when he is carried away and enticed by his own lust.
15 Then when lust has conceived, it gives birth to sin; and when sin is accomplished, it brings forth death.


We have avoided biblical language in this seminar because it does not effectively communicate at times. However, for the sake of clarity, allow me to define some terms for those who are familiar with Biblical jargon.

Flesh (old nature) = Insecurities
Insecurities drive us. We feel we must have what they demand.
The flesh is confident on what it needs.
Each person usually has one or two special areas of weakness.

Lust - Arms of the flesh
Lust wants fulfillment even though it goes against God's ways.

Temptation - anxious thoughts
Anxious thoughts are one kind of temptation. Temptation is not sin but leads to sin. Temptations must be dealt with or they will conquer a person.