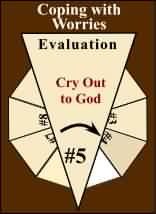 Convinced that only God can help our anxious thoughts.
Realizing that only God can help us when anxious thoughts strike.

Just felt a lump in an unusual spot? Heard you might lose your job? Or do you just have some whacky fear that is keeping you up at night? Session five provides the ammunition one needs to fight against overpowering thoughts.

After learning the three steps to overcoming these anxious thoughts, we will practically apply this to both strong feelings and financial burdens. Also don't forget to find out why all the children started laughing over difficult circumstances during family prayers.
Other Session #5 links:
Session #5 Index
Session #5 Worksheet (pdf)
Session #5 Slide Presentation (pdf)
Session #5 Assignment Psalm 94 (pdf)

Let us first pray.
Dear Father, the question is not whether I have anxious thoughts, it is how can I control them? You know how these thoughts tend to control me. I know this does not please you. Will you please forgive me where I have listened to my worries instead of You? Lord, I want to have a godly testimony even in stressful times. I need you to train me how to respond rightly to my emotions and feelings rather than follow them or outright reject them. Only You can help me and on You I now call for help. In Christ's Name, Amen.