Peace is the
absence of trouble, the presence of God.
Anxieties, stress and fears are three enemies to peace.
Peace is the absence of trouble, the presence of God.

We will regularly meet up with circumstances that we prefer to avoid, but this in unavoidable. Instead God has promised to be with us during these stressful times. God not only cares for us but is also able to care for us. He is all powerful.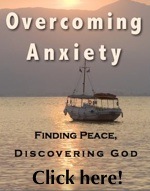 If anxieties, stresses and fears are not effectively dealt with by living godly lives, many physical diseases begin to aggravate our situation.
We were obviously not made to cope with such problems on our own.

Each of these three states admits to some form of immobility - one of paralysis.

The Scriptures calls people who have given themselves over to these maladies as captives or slaves. Once accepted, they dominate ones life to whatever degree they are allowed. They are abnormal not because we daily meet up with difficult decisions, but because we have not trusted God to help us as we should. The apostle said these strongholds must be taken down before His peace can be found. Let's try to understand these three enemies a bit more.
Anxiety (Anxious)

A state of trouble over
important matters that we feel we cannot find a solution.
Stress (Stressful)

A state of silent frustration over matters that we feel we can do nothing about.
Fear (Fearful)

A state of alarm over a vital concern that we feel might bring us harm.

An anxious spirit is constantly troubled by its attempts to resolve many unnecessary future situations causing states of perplexity, confusion and irresponsibility.

The Greek word for anxious is derived from meridzo which means to split or be divided. Anxious hearts and minds are busy focusing on things they can't resolve so that they can't handle things they otherwise could! The end result is that they can't properly focus.


Stress - Deadlock


A stressful spirit is plagued by silent frustration over persisting unresolved matters.

Stress is a constant gnawin tension that takes away the joy of living.

Stress is similar to worry but its focus is on present tense situations rather than future decisions.

Fear - Seizure


A fearful spirit is alarmed over some threatening situation.

Fears revolve around root drives connected to perceived areas of fulfillment. Fear arise as we become alarmed at how desperate we are regarding a certain circumstance.

Fears are similar to worry but its focus is on the consequences of unresolving a certain matter.
An everyday worrier worries 13 hours a week, while those with a disorder fret almost 40 hours a week.
We see this connection between fear and anxiety in this verse,
"Of whom were you worried and fearful, When you lied, and did not remember Me, Nor give Me a thought? Was I not silent even for a long time So you do not fear Me? (Isaiah 57:11).

Let's see how temptation is tied into these robbers of peace. Next page