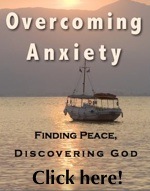 Temptation always leads to three devastating consequences.
Deception
- always uses lies


Disappointment
- always gives false promises


Damage
- always lead to sin

Worry
makes us
very susceptible
to temptations

Temptations intrude into our life's path in order to lead us astray. This is the red path that intersects with the yellow path. The temptation is represented by the green.
Every
temptation is founded on a lie and always presents a life choice that departs from the commands of God.
They attract us by asserting that its alternative way is the best way. It never is. NEVER!

The best thing to do is keep on the right path.
Don't listen to the lie even if you don't know why.
Let us see how lies affect the three areas of anxiety, stress and fear.
Anxiety lies
The lie says that if you trust what it says, then your worries are over. Wrong! These are false promises. Once the temporary false hope passes, a stronger anxiety will come.

Stress lies
The lie says that by being stressed out, you can't do anything about the situation. Wrong. You do not need to resign to the pressure. The Truth can set you free. God has a proper way for His children to handle every situation.

Fear lies
By submitting to fear, you agree with fear's lie which says that you are taking better preventative measures than God has provided.

Temptation is like bait. There is always a secret hook underneath.

We get anxious when we listen to these lies not only because the false promises do not work out as planned and we end up in a worse condition, but also because of additional guilt from not believing in God. We were designed only to be made secure and protected by God Himself. The further from God, the less peace we have.

So what can we do not to be caught by temptation? Next page.