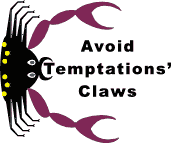 God has shown us clear ways to avoid temptations.
In this slide we will discuss the three actual ways to avoid temptation's claws.
Catch it! Be aware of thoughts
We need to train our selves to be more conscious about what we are thinking. Go deeper than what we feel. We do this through consistent study in God's Word, journaling and prayer with God. Part of the Lord's prayer is "keep us from temptation." If we do not sincerely pray this each day, then it is like saying we can handle Satan's worse on our own.

Too busy? Then spend your time worrying! There is no other way!


Discern it! Analyze the thought.


We only have a brief window of opportunity to avoid temptations.

Once we are aware of what we are thinking, then we need to see what the scriptures say about the matter which we are thinking about. This is not as easy as it sounds. The reason for this is that we have not been well grounded in the scriptures and their practical applications.

For example, some people wrongly believe they do not need to forgive every one who has offended them. Scripture would point out that they need to forgive all. We need to regularly highlighting God's Word in our minds so that we can immediately see the temptation's false premise.


Decide it! Make the right decision.
We need to follow up discerning the temptation by immediately rejecting it and affirming the truth. The longer we wait, the more it pulls at our feelings and confusion. Acknowledge ones feelings but affirm one will only do what is pleasing to God. Here is a sample prayer.

Dear Lord, I know this big bill is coming up, but I just don't have the money to pay for it. I feel panicky. (This part tells the true story! But one must go on with the truth of God's Word.) I need you to help me. I am desperate. Please help me pay this electricity bill. I don't know how You might do it, but You promised to care for my daily needs. I will trust You, my God. Show forth Your power and love. Thank you for caring for me, in Christ's Name I pray, Amen.
But what do you do if you already have fallen into temptation? Next page