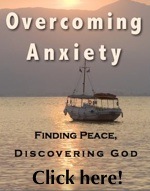 We might understand why a person worries, but how do we actually get rid of our worries?

We need to come now and tie these principles together. Just think, if a friend came up to you sharing about how worried they were. What would you say? What would you pray? This becomes a time for you to share your faith with them by helping them overcome their worries.

The three points from the Lord's prayer outline how we can pray.

Do I have to fix it?


I remember once coming from a car inspection and being very surprised that I didn't need anything fixed. Because I drive older cars, I usually have a number of repairs.
Maybe the muffler had a problem or the brakes were low. The car was working as far as I was concerned, at least for now.
But I don't want to be like those people that break down on the side of the road - not if I don't have to. So I end up fixing problems I didn't know I had!
1) Affirm God's Truths

Declare the truth of God that is relevant to your situation. These truths begin to shape your thoughts. Even if you don't feel it, declare it. It is true.
For example, if we are afraid, the relevant truths of God have to do with His omnipresence. He is always near. Or as I shared with one of my daughters this morning, if she is concerned about her daddy and mommy being away, what is the truth? The truth is that God is always present. In fact, we find that even when daddy and mommy are here, it is still God who protects. We then went over a few verses speaking of God's presence among His people.
We confront our worries with the truths of God!

2) Asking Help for Needs

There are several kinds of requests in this prayer.
By asking God, we are showing ourselves dependent upon Him. This is the way we were designed to operate. How unfortunate that we usually let everything fall apart before we pray. (See sidebar, "Do I have to fix it?") Hopefully we do better by learning dependence upon God even when we seem to have all we need.

3) Assessing Our Situation
Many of us forget that we are in a spiritual battle. We must refuse to think only about our physical needs. We need special protection. We should think about deliverance from possible future failures as well as past defeats. We want perfect deliverance.

We will go over these points in more detail in the next slides, but I wanted to give you first an overview. Here we find three steps to overcome anxiety: affirming, asking and assessing. This is the most condensed form we have. Each area can be expanded into its own parts but for simplicity we have broken it down and tied it to the Lord's prayer so that you can remember it.

Please remember two important aspects on this kind of prayer.
1) Be flexible.
The truths of God were stated at the beginning as well as the end (vv. 9, 13). Whenever it is appropriate, mention these truths of God. If you feel caught, hindered or troubled, start reading a Psalm aloud and then begin to state each truth aloud in your own words. This is not magic but simple declaration of truth which brings clarity to our confused minds and refreshment to our souls. Mentioning them in the end bring closure to prayer through praise.

2) A person's request and his assessment of his situation need to be connected.
Wisdom is the gaining of God's perspective on our situation. We cannot, for example, just ask for forgiveness and that is all. A biblical principle reminds us that if you do not forgive, you will not be forgiven. We need to assess our own hearts. If we begin asking for forgiveness, our minds should be trained to immediately think whether we have any grudges or bitterness against anyone. What we ask should lead to an assessment of our situation to make sure all is clear.

The same principle applies to us when seeking deliverance from evil. We need to go back and see whether we really want deliverance. By this I mean, we need to check whether we really want to be delivered. We need to ask ourselves if there is anything that I am doing fostering this evil attack. We need to see if the Lord is prodding us to do anything in particular.



Let's now see how point #1 works. Next page.