Endurance Testing
Our trainers will test us right up to our limit. We need to take necessary precautions. We must make sure that our heart is working well. If the heart is not ready for the training, then we will not finish the race well.
The heart's job is to make sure the necessary oxygen and nutrients are able to supply all the parts of the body. The heart has to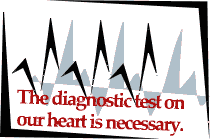 fully support the system in order for the race to be run. If the heart doesn't want us to get there, then we won't be able to get there.