Dead

'Dead' refers to one who had life but now is without life, communication, alertness. He or she has now deceased, departed or become inanimate. The Greek word 'nekros' has an English derivative of 'necromancy,' meaning communication with the dead.

Trespasses

The word 'trespasses' means a lapse from the standard. It is often used in a more mild sense where one has done wrong out of ignorance. "Oh, I'm sorry. I trespassed on your property without knowing it." "Oh, that is yours. I didn't realize it! Please forgive me." It is interesting that it does not speak of major consequences or open and flagrant disobedience. Perhaps he is emphasizing that we only need a minor infraction of God's law to become guilty.

Sin

The Greek has about seven words for sin. This word used for sin is amartia. It means literally 'missed the mark.' Think of an arrow that is shot and does even get near the target. It missed it. One can think of our lives having a purpose that God has given to us, but for one reason or the other, we do not hit that target. We don't even get near it. We have missed the target for which we were designed. God designed us for one thing, but we have consumed our energy, mind and body on other matters.

"And you were dead in your trespasses and sins" (Ephesians 2:1). It is obvious that the apostle is not speaking about our physical lives. This is proven by the following verses. He instead is speaking about that death which devastated Adam long ago when he ate the forbidden fruit. "But from the tree of the knowledge of good and evil you shall not eat, for in the day that you eat from it you shall surely die."" (Genesis 2:17). God could have rightly snuffed out Adam's physical life but chose to let him and his many descendants to live on earth for a short time. God did not have to do this at all. This pause before judgment is a period of grace. We benefit from this 'breathing room' of life. Seeing that the whole human race was implicated in Adam's crime, most of us have what some call 'a second chance.' Whether Adam's sin was called misdemeanor or not, it was still an offense with a clear and obvious judgment.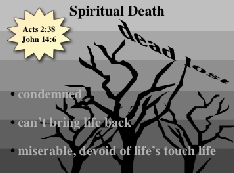 Spiritual death speaks of a lack of communication and contact with God. More than this, man lost the resultant joys and love he otherwise had when he was in communion with God. The passage couldn't be more clear. "You were dead." You might be thinking of all the sorts of religions around. How can it be said of people that they do not believe or recognize God? We are spiritually dead. We are cut off from God. This is true even though we might not understand it. God said it. Jesus said it (in an implied way).

The apostle clearly states it here. All of Jesus' references to eternal life or spiritual life imply the sentence of death on our lives. "I am the bread of life" (John 6:48).

Paul at once declares our lost state and the reasons for it. Apart from the spiritual life that God offers in Jesus, all mankind live in a state of death. For those who have seen dead bodies, it can be an eerie experience. Something is not quite right. The same is true in a spiritual sense. Our ability to believe that all is well in our lives without God is good proof that we are in the dark. Spiritually dead people are just unconscious of what is good, right or normal.

Paul presented this stark truth to shake up our tolerance of religion. The meaning of religion is 'man's attempt to fill his spiritual vacuum.' Religion, however, is just dead bodies in spiritual-looking clothes. Closely analyze some religion, and you will find the corruptness that we will read of in the next few verses. It might be looked on as spiritual by many, but clearly it is not. There are many who like to think of them as 'spiritual' in this modern world, but they are totally deceived. Gurus can talk and chant, but they are spiritually in the dark. Those that donate their thousands, millions or billions still have an issue to deal with like all of mankind–we are spiritually dead.

The picture Paul gives us in Ephesians 2 does not please most people. They like to think well of themselves. It is easy for them to think that God chose them because they were good, perhaps because they are lovable, cute, kind, eat vegetarian, charity givers, moral, try hard, religious or call themselves Christians. In many cases they actually believe they have an association with God. They all think that they have enough light in them to recognize God. This is the grand misconception of the modern world. They think they are alive when they are dead. The word 'dead' means that all of us on our own cannot in any way breakthrough into life. We totally lack the insight, wisdom, affection, will or power to connect to God. This is exactly the opposite picture that religions, including humanism, announce. They believe there is that residing essence of life in man.

Can a dead man be partly dead? If his life is gone, then he is gone. There is no way for him to decide I want to be alive and then by some self-will become alive again. He is completely incapable of restoring life to himself.
The apostle speaks about all of us, not just the so-called bad segment of the society. This is the natural state of man. This reminds us of contrast against what we saw in the first chapter. Let's summarize the implications of what Paul has stated in verse 1.

Every human being is condemned to a life without God.

We have no way of bringing life back. We cannot reconnect ourselves to God.

We are miserable, devoid of spiritual life and live out lives without God's special touch.

Application

No matter what anyone else does or does not do, you need to ask what you really believe about yourself and mankind in general. If you think that by your inherent goodness, affection for religion, devotedness to some good thing can save yourself, then you will forever be lost. You will never seek for help or salvation unless you realize that you are what in English we say 'dead lost.' "Whoever seeks to keep his life shall lose it, and whoever loses his life shall preserve it" (Luke 17:33). "For whoever wishes to save his life shall lose it, but whoever loses his life for My sake, he is the one who will save it" (Luke 9:24).

Our hope starts when we can admit we are spiritually dead. Admit that you have no hope. Admit that you deserve eternal judgment for your trespasses and sins. Only then, like the Ephesians of old, you can find life in Jesus. As Peter said to the crowds at Pentecost, "Repent, and let each of you be baptized in the name of Jesus Christ" (Acts 2:38). There is no life found but in Christ. All our confidence that it will work out okay is plain old deceit which keeps ourselves, our children, parents, friends and neighbors from God. Only a true understanding of mankind's spiritual deadness and condemnation can awaken us to the fact that we ought to tell others about Jesus. Without Jesus, people perish in their trespasses and sins. "Jesus said ..., "I am the way, and the truth, and the life; no one comes to the Father, but through Me" ( John 14:6).
Next => B) The Descriptions of Man's World (2:2)