• A. Life Events (Matthew 26:1-13)
• B. Three Responses (Matthew 26:14-75)
1) Judas (Matthew 26:14-25)
2) Jesus (Matthew 26:26-56)
3) Peter (Matthew 26:57-75)
Life is our testing ground. The events we walk through are the very things that will prove the purity of our heart's ambition to serve the Lord. This reminds me of a story about an evangelist Robert Sheffey. The words stick like glue to my heart, "What the Lord requires is difficult."
He was asked to give up one of his most prized and dependent possessions. It was his horse that had kept him steady over the many miles of itinerant journeys he had taken for tens of years. The horse, Gideon, was his only steady companion on many a lonely and dangerous journey. But it happens to us all, doesn't it? Somehow a certain event or statement awakens us to a special understanding of our lives.
These are the times our hearts are being proven. In James, it says God never tempts but tests. We sometimes so focus on the fact that He never tests us to ignore the equally true fact that He does test us. Yes, the Lord our God tests our hearts to help us see what is in them. We usually equate these times with difficult times, hard testings. But these times also can come at times of ease and comfort.
We should understand what the Lord wants to do in our lives. He is proving our hearts. He is giving us the opportunity to show how much we desire to do His holy will no matter what it costs. They are times to grow. They can be times we fall, but they need not be.
Purpose
To encourage us to look deep in our hearts at our ambitions and desires and now give them all over to serve the Lord the way He wishes.
Prayer
Dear Lord in Heaven, only you have eyes to see the depths of our hearts. These proving times that you take us through enable us to see what you see, at least in part. May you help us to genuinely seek your face now so that during these times of trials, our vision for life will all the more be submitted to do your Holy will and purpose. In Christ Jesus' Name we pray, Amen.
We have an opportunity to look at three responses to such proving times here in Matthew 26.
1) Judas Response - Treachery (Matthew 26:14-25)
Perhaps we are so far removed that we cannot properly understand what happened when Judas betrayed Jesus. The scripture leaves us no vagueness about why he did so. Matthew records it ever so clearly in 26:16.
And from then on he began looking for a good opportunity to betray Him. (Matthew 26:16).
What happened that brought Judas to such a point? Or perhaps even more poignant of a question, "Why did Judas stay this long with Jesus?" My suggestion to these tough questions have to do with his vision. Yes, his love for money was his heart problem. We know that Judas privately pocketed money from the disciples' bag.
I don't think he stayed with Jesus and the disciples just so he could pocket the money. We must imagine that he could have made more money many other places if he so desired. He must have had a vision that things would have worked out more the way he thought.
The two clues of what that might be are found in Matthew 26:1-13: talk of death and waste of good money.
Firstly, we see Jesus was speaking very frankly about His imminent death. He even mentioned crucifixion in 26:2. Jesus had been speaking about His death for quite a while now. But somehow the reality of it didn't come to Judas' mind. Now everything came together. His hopes in following some great person with personal reward would not happen. Jesus was predicting His death. Judas probably believed it and figured this was not his thing anymore.
VISION CRISIS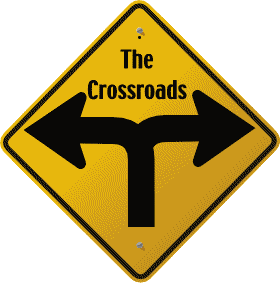 The place we need to make a decision.
There is an alternative thought. He might have thought up a plan to 'make' everything work like Jesus was prophesying. He would just make a little money on the side. In either case, personal desires were shaping his life decisions. Judas would not be able to fulfill his personal plans for self-improvement through Jesus, so he would not need to follow Jesus any longer.
This is the crisis of vision. It occurs when a man sees that what he is really after will not be accomplished through following Christ. Man often fools himself. People call themselves Christians for many reasons. They will endure all sorts of difficulties for the sake of Christ. But when their secret ambition is something different from what Christ reveals, they part roads.
This is the crossroads of our faith. This is the place we need to make a decision. It seems that the most crucial decisions are set up in such a way that we are observant of what we actually are thinking.
Judas not only heard Jesus speaking of death, he also began to despise the way Jesus was handling money. Judas didn't come out and say this. He voted with his feet. He left Jesus. This one lady poured out an expensive vial of alabaster perfume on Jesus' feet.
I sense that Judas no longer could tolerate what he thought were Jesus' blundering misuse of good money. He probably finally caught on that Jesus was not for storing up money or even receiving it. So he tried to make the best of the situation. He would sell Jesus for twenty pieces of silver. No doubt this bothered him some but he probably justified it by thinking that he was doing God's will because Jesus said it would happen. He actually thought himself to be helping God.
Conclusion
Judas finally got to see how he was not going to find the idea of success that he had for life in being with Jesus so he departed from Him. In this case, the two events intermingled in his soul until he was so clear as to what Jesus was doing, that he could see his own desires and follow through on them.
2) Jesus' Response - Faithful (Matthew 26:26-56)
While Judas responded to the crisis of not being able to accomplish what he had hoped, Jesus steadfast and resolute went through His time of testing. His testing comprised of understanding what He would soon need to go through - the ordeal of the cross with all its suffering and shame.
The temptation in the end boils down to a choice just like for Judas. The incident that brought Jesus to such a intense wrestling was the simple knowledge of what He would soon face. This knowledge produced in Him an awareness that He actually had to be separated from His heavenly Father.
The price was costly; the pain intense.
We see that Jesus three times sought God in prayer. He even tried to have His friends accompany Him through this trial. Jesus also had a way out, at least practically speaking. He could have called twelve legions of angels to His aid.
Or do you think that I cannot appeal to My Father, and He will at once put at My disposal more than twelve legions of angels? (Matthew 26:53).
He had to work through what His real vision in life was. It was to fulfill the Father's will, not His own. He set His own preferences aside so that the scriptures might be fulfilled.
In this case then, we find Jesus finding agreement of His heart with what God had wanted. This is the pattern for us. Difficult trials might cause us to scream on the outward, but inwardly our hearts patiently and humbly concur. We recently went through a financial testing. Month after month we struggled with having enough to pay our bills. Always on the edge. Our account even went down to zero after we withdrew the last $3.12. in order to buy milk.
We were tested. In our case we had to accept what the Lord had designed us to have so that we could trust Him. We had to accept His judgment. Even though He could have made us rich, this impoverished situation enabled us to reach deep in our hearts and find a peace that we really want what He wanted after all. Yes, there was all sorts of difficulties, but God was faithful - always.
Jesus is our perfect example.
For since He Himself was tempted in that which He has suffered, He is able to come to the aid of those who are tempted. (Hebrews 2:18).

For we do not have a high priest who cannot sympathize with our weaknesses, but One who has been tempted in all things as we are, yet without sin. (Hebrews 4:15).
Difficulties push us to extreme situations where our purpose in life is questioned. We wonder if it is worth it all. If our hearts are faithful, we choose to go God's way all the way.
And He went a little beyond them, and fell on His face and prayed, saying, "My Father, if it is possible, let this cup pass from Me; yet not as I will, but as Thou wilt." (Matthew 26:39).
3) Peter's Response - Inconsistent (Matthew 26:57-75)
Peter also faced a time of difficulty. He was inconsistent. On the one hand he would boldly proclaim, "We will die with you." On the other hand, though like this situation here, he would deny he even knew Jesus.
But he denied it before them all, saying, "I do not know what you are talking about." (Matthew 26:70).
It is easy to say that there are only two categories like Judas and Jesus, but Matthew wisely left Peter's example for us to observe. For here we see that sometimes our heart is not pure. We get easily disillusioned and vote 'forget it all.' On the other hand, when we can really get to our heart's inclination, we would vote, "Yes Lord, whatever you say."
Jesus was not praying for some custom. War was going on in His mind. The devil no doubt was screeching at Him with all sorts of accusations of foolishness and whispering subtle thoughts begging Jesus to be prideful, "You're too good for that." "You could serve others more if you ..." We do not see Peter praying. He fell asleep.
And Peter remembered the word which Jesus had said, "Before a cock crows, you will deny Me three times." And he went out and wept bitterly. (Matthew 26:75).
From this lesson, we need to learn two things.
(1) Prayer always needs to be a real part of our lives. Even when we are busy, we must refuse not to pray. The harder things get, the louder our prayers must get. The more we need to quote scriptures. We need to fight our way through our deep inside will to love God and serve Him.
(2) God can pick us up when we fall. Even though we blunder, we can again through His grace again stand. Peter's tears spilt over the ground much like Jesus' blood. They showed a repentant heart. Often, it is only in bitter defeat can we come back in touch with our heart's genuine desire. Perhaps Peter wanted security, but then later realized what good was security if He was not where God wanted him to be.
Summary
Below is a chart helping us see all three responses.
| | | | |
| --- | --- | --- | --- |
| Person | Response | Character Revealed | The focus of their heart. |
| | | Treacherous (Mat. 26:14-25) | Focused on what was lost. |
| | | | Focused on what was gained. |
| | | Inconsistent (Mat. 26:57-75) | Not focused. Went back and forth. |
If we are able to draw close to the Lord when all things are well, then we can touch basis with our real heart's desires in light of the love and glory of God. At times like these, we will sense a call to a deepening commitment. We should then take the opportunity to tell Him that we seek not fame, riches, reputation or ease, but Him and His will. Even if He calls for us even to die for Him, we will follow.
These times of touching our deepest part of our hearts and accentuating it through such commitments, helps us in more difficult times when it is hard to think clearly.