This year has been full of special surprises.
Three Crisis Surprises

A Fried Computer

Struck by lightning, Paul's web center of operations was down. For a full month Paul trusted God with the situation. In the end we could purchase a new, much faster eMac with the elegant Mac OS X, mostly paid for by insurance money.

A Bashed Van

It was an impossible hit or so it seems. Swerving around a 90º intersection on our narrow street and ramroding our huge van three feet up onto the sidewalk. We are grateful that the drunk driver was caught and had insurance. But again, it was a six weeks of waiting. In the end we had a nicer van with lots of replaced parts!

A Fiery Trial

The worst fire in Pittsburgh blazed in our neighborhood in April. Just over the cliff near our home was an old wooden wood processing plant.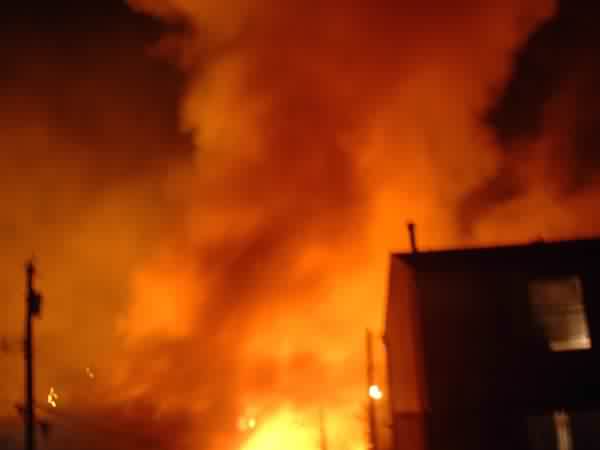 We heard, saw and felt the terror of the fire soaring up high above our street level. It only destroyed three houses on our street but shook us all up. It reminded us of our short, fragile lives. God delivered us by causing the wind to blow away from our house.
More fire scenes
These packages are not always wrapped like we would expect, but if we are a little patient with God's insightful ways, we are absolutely awed. Our eternal God etches on our hearts ways He has specially fulfilled His good promises. Christ's birth was just one of those many intriguing steps of our mighty God.

The Lord ensures that our faith touches every aspect of life.

Some other special events also touched our lives (more mild and expected than the ones highlighted in the sidebar!). Elizabeth graduated from college with a degree in Commercial Arts. She was hit hard with pneumonia during the fall semester, but she persisted through all the battles and graduated. Can you see her smiling?! Christy on the other hand has become our in-house hair and nails (I wonder about some of those nail creations) specialist after taking some courses in Indianapolis.

God fulfilled a long time prayer request by bringing together an international team to help design basic discipleship materials. Part of the Cross †raining materials should be available by the end of this year.
And even more exciting is the ADT (Advanced Discipleship Training) concept and curriculum which was just published on the web. ADT works alongside the local church to produce better qualified full time workers without sending them away to seminary. Only God can realize this dream. God gave us the seed and we planted it. We now watch to see what He grows from this new kind of seed.

We never would have thought that one reason the Lord wanted us to have such a large family is so that we would have plenty of illustrations for the Parenting Class! We are teaching our second Biblical Parenting Principles seminar this year. Two more are lined up for next year. How did this curriculum develop?

The Lord had so clearly aided in writing this material that we consider it one of this years' marvels. This 16 hour course is thorough, practical and filled with reasons and ways to raise children God's way. Paul not only teaches the what but the why. One parent told us last class to her delight "It works!" We hope that others don't need to have eight children before they figure out how to properly parent!

Meanwhile the BFF ministry keeps growing. About 1,000 pages are read each day on the BFF website. We are excited to see people from all over the globe reading BFF material. There is even a page that provides automatic language translation for for readers of BFF materials from different countries.

One of the greatest gifts this year has been our 25th

anniversary. God has been challenging each of us to grow in Christ more and more. Our marriage is sweeter than ever. Paul is getting a greater glimpse of what a helpmate God has planned the wife to be.

The bargain hunter got $151 dollars of food yesterday with $66. Not bad! She provides Paul with special insight into matters that makes him sharper and more well-balanced. We have enjoyed our weekly 'dates' and the opportunity to teach the parenting courses together. And though our bodies are approaching the half century mark, we feel young in heart (it is a good thing, isn't it?).

One highlight our family enjoyed this year was an opportunity to visit Elizabeth's Senior Art Show at college.

It was great! Elizabeth returned to Pittsburgh after graduation from Pensacola Christian College. She continues to keep in touch with college friends by 'IM'ing (some of you know 'instant message' means conversing over the computer). She is interested in helping people right now and is content caring for a set of twins for a couple in our church . It helps keep her Chinese up! She was excited about the opportunity to paint faces on children at Chick-fil-A and get paid for it. She does special design and art projects for people too.



Christy has been chiefly helping one family and has interest in cleaning older people's houses and caring for hair and nails. She has been busy helping out with the youth group in the Chinese church we attend, singing with the worship team and attending a small group. But the most important thing, perhaps, is the young man that has been courting her. Elias' family is from Venezuela though he has been in the States most of his life. He attends the same church and will graduate in computer science this spring. Paul is glad the boys share some of their energetic sprightliness with him!



Allison is 12 and still loves gerbils, horses and soccer. Her gerbil died, but she recently has acquired two more. Our middle children joined a once-a-week home school baseball and soccer team. Allison said she was just starting to get the hang of it when the season was over. Daniel, 10 years old, loved baseball. He has some natural talent.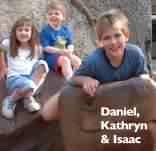 Benjamin, almost nine, and even Kathryn, seven, joined in on the sports too (on a smaller team). We used to play whiffle ball in the backyard but just can't anymore. Even the little ones hit the ball into the neighbors' yards.
Our biggest project together was painting our neighbor's basement. Allison, Daniel and Benjamin were so excited and did a great job in that dirty old-basement. We are now starting up a small home printing business. We call it Prism Printing. Paul doesn't have time to print BFF materials so he is training Allison and Daniel to do the work and earn a little money.

Our living room has often looked more like a chess tournament than a home these last few months. Paul has to be careful playing chess with them.

His undefeated status will not remain too much longer, especially when he is distracted by 4 year-old Isaac jumping on Daddy's back while he is playing ( actually Paul is already developing a set of excuses). Even Benjamin and Kathryn play a good game. Isaac plays too! What a fun home we have.

Whoever said homeschoolers lack social activities?!

Rebekah , our youngest celebrated her second birthday in October. She learns everything from everyone for good or bad. She is such a fast learner we can't keep up with her. If she wasn't well-trained, we would be in a bad way. She came downstairs the other day looking like a cat. She used a brown eyebrow pencil on her face just like her older sisters! She is constantly giving us a laugh. She is fully potty trained even at night. This is the first time in twelve years we have no one in diapers!

We'd love to hear from you.

Biblical Foundations for Freedom

Send us an email to join our biweekly prayer update.
3276 Bainton St.
Pittsburgh, PA 15212
412-761-3508
pbucknell@foundationsforfreedom.net