Everything is restored when we become a Christian. But it doesn't mean that we cannot miss out. We need to be careful. The Israelite conquered the Promised Land with lots of miracles, but some things were not rightly cared for. And this set up terrible times for the people of God. Just read through the Book of Judges and see if this is the kind of life you want. Jesus did so much for us, but there are a few things we must do not to be waylaid.
What does John exhort us to do in 1 John 5:21. He tells us to 'guard yourselves.' If we are to guard ourselves, then we need to do something to keep ourselves from drifting from our affection for Him.
It is important to note that there is a natural tendency or pull to go from having full devotion to God. Natural means there is a pattern, regularly happens, and occurs if nothing is done to prevent it. John in the first part of the book shows us how powerful it is when a person enters God's fellowship.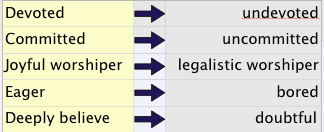 But he knows dangers lurk about and so closes with a warning. What we see is something that happens all the time around us and to us but we never quite figure it out. After all, do you see dead churches all about us? Once thriving but now their candlestick removed.
John helps us note what is wrong in our lives. Did you ever see this 'split devotion' happen: devoted to undevoted, committed to uncommitted, joyful worshiper to legalistic worshiper, eager to bored; Deeply believe to doubtful. Has it happened to you? Is it happening?
Coming Back Home
If you are a true Christian, then you have the privilege of fellowship with the Lord. But this does not mean that it is a guarantee. There is a reason John the Elder warns His people so.
John wants us to experience Life Himself and not be cheated by the world. "And these things we write, so that our joy may be made complete" (1 John 1:4). Deviation always means problems. God designed us to experience the fullness of a relationship with Him. It will happen if we follow what He has for us. But idols are the one thing that brings His people to deviate from the norm of His blessing.

Religion leads to mediocrity and death in the end. John wants us to experience Life Himself and not be cheated by the world.
I want today to challenge you today to come back home. By that I mean that the Lord is trying through His Word to recapture all of your heart, soul and mind. Christ has enabled us to live in the fulness of life. What the first Adam lost, the second Adam, Christ, has won for us.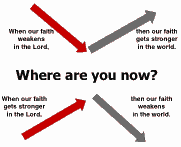 Every time we slide away from the Lord in our eager and sincere faith, our belief in Him is getting weaker and weaker. We are no longer willing to trust the Lord that He really cares for us. We are willing to doubt whether His will is always best. So we make compromises. Our willingness to fight the Lord on issues reveals how much we believe the world's ways are right. If we are not careful, we lose our faith.
Please notice that when our faith weakens in the Lord, it strengthens in the world. Vice-versa is also true. When our faith in the Lord is strengthened, our faith in the world dies away. Remember when you were first saved? This is when your faith in the Lord was strong. This is the reason we must work with Christians and disciple them right after they were saved. We must build up their faith so that they become less susceptible to the lies of the world.
An idol can be detected in a Christian's life by his inconsistencies in giving, attendance and devotion. The divided attention means divided loyalties. God, being the only God and our Creator expects totally loyalty.
Let's go on and show how all of this links together for it is here we will be able to make the needed changes. Next =>