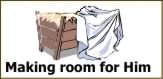 Perhaps a good symbol of idolatry is that often used Christmas analogy. "And she gave birth to her first-born son; and she wrapped Him in cloths, and laid Him in a manger, because there was no room for them in the inn (Luke 2:7). Yes we know from the people's perspective that were staying in the inn didn't know a lady was about to give birth. And they really didn't know that Christ the Lord was to be born. They missed the angels singing. They didn't know about the promise that Jesus would be born in Bethlehem.
No Room in the Inn
But it all very well pictures our exact scene. The point is that we go busy with our lives, day by day. we don't think about Christ. we don't think about what God wants, at least not too seriously. We might make it out to a church service but in the end our lives are our lives. In fact, if we look at our lives we too would have to say, for one reason or another, that there is no room for Christ in our lives. But the best side of us says, there must be some room. We move things about a bit and then find a place for Him. "You can stay here, Lord." We pride ourselves in going out of our way to find Him room at all. "I am very religious. I am spiritual." But from God's point of view, it is an insult. We make only a little room for the God Almighty to work in our lives. No room in the inn.
Please know it well. The church is so weak, lethargic, powerless, sick, physically sick, immoral, caught up in sensory worship, not because God is not near. It is because we have not really made room for Him. But for the man or woman that seek Him with all their heart, God is pleased to reveal Himself. May you and I be those people. May we be the ones who vacate our own rooms and let Him have the best. Let us again remember that we are not gods but He alone.
Conclusion
In conclusion allow me to briefly reflect on two verses the Lord has put on my own heart through the week.
And those who know Thy name will put their trust in Thee; For Thou, O LORD, hast not forsaken those who seek Thee (Psalm 9:10).
Firstly, we find in Psalm 9:10 a true and deliberate putting of ones trust in the Lord. We can sense where David's heart and affection are. He knows that God will reward the one that seeks the Lord and that he himself is seeking the Lord.
This doesn't mean that he is perfect. He is a seeker of the Lord. Jesus said, "Seek ye first the kingdom of God and His righteousness" (Matthew 6:33). As we begin to see how our hearts have been caught away with the different idols, we should not be so alarmed to think that God doesn't want us. That is the devil's words. God wants no man to abide in his sin and even worse to decide to remain in sin because he is so bad. This is the precise reason there is the cross. We do not need to stay in our sin. We can seek after the Lord. But we will and must seek Him. Going to church simply doesn't count. God must take the center role on the stage of our lives. Nothing else is permissible nor should it be tolerated within our hearts.
Here is another verse God 'spoke' to my heart with this week.
"I will give Thee thanks with all my heart; I will sing praises to Thee before the gods" (Psalm 138:1).
When does worship become inspiring and life exuberant? It only comes about when we have freed ourselves from idols. Listen to the great praise songs. What do you hear? You will hear complete trust in the Living God. Their doubts have receded as they have put their confidence in the Lord. We should go a step further, however.
We must challenge the idols and the gods about us. They claim our heart often without us knowing it. Let's look at Psalm 138:1. We can see this worshipful spirit that we are after. "I will give Thee thanks with all my heart; I will sing praises to Thee before the gods" (Psalm 138:1).
Do you see that his whole heart is giving thanks. He has left his doubt behind. He has entered a life of great joy because He has discovered what is true. Idols are lies in disguise. The 'isms' of the world might sound attractive but everyone one of them is but a broken pot glued back together that will break once it is put to use. The second clause of Psalm 138 is even more amazing.
Where will he sing praises? Right in front of the gods. Do you see what he is doing? He looks at all the promises of these idols and gods. And then right in their face sings praises to God. He is not blind. He has seen what the world offers. The United Nations is suppose to the be savior of the world but its very leaders are corrupt and compromise on the very poor people that they are to serve. This is the promise of the world. They can't deliver. They boast of immorality but come away with diseases. They boast of freedom of choice but come away with broken marriages and murdered infants. Follow the trail of pain, suffering and boredom. Every time you will like David discover the wretched trail of idol worship.
I can remember making mud cakes when I was young. I can remember my own children making them. But every knows that they are pretend. You don't really eat them. You can pretend to eat them but no one really does. Why not turn to the source of Life, Jesus Christ? For in Him alone you can find the glorious opportunity to life out your life.
Join David and spit out the world. If you are still attached to some philosophy, some religion, some promise, follow the results of those that live by them. You will see its brokenness. Only Christ offers life.
None of us should give any of our heart to anyone but the One who made us. He has designed us with a place that only can filled by Himself. Worship the Lord God alone. This series ends here. For study questions on 1 John 5:21.