We can't seem but to like those movies that portray the strong and powerful. Move after movie is made. This might be some old cartoon superheroes like Spiderman and Superman or those who fight the enemy in some intergalactic star war.

Why was Spiderman 3 just released? People are hooked on power and extraordinary strength.

Ephesian's Power
The Apostle Paul has repeatedly used this word 'power' in the Book of Ephesians. This is the sixth time he uses the word 'power' in Ephesians. During our Bible studies, the question has come up, "What kind of power is he talking about?" Let's think about this question when we read the applicable verses.

We not only have the word 'power' by its cousins, strength, dominion, authority and other related phrases: 'far above' and 'exceeding abundantly beyond.' What is Paul trying to say by this? Does he really mean these things? Why don't we see this power in our own Christian lives? We hope to answer some of these questions in this message.

As long as we think that special things like His power are for others in another time, age or level of spirituality or impossible for ourselves to tap into, then we will suffer. It is only when we begin to see the great things that God is waiting to do in our lives that makes us turn around and seek God's amazing grace. Let us turn our minds to these greater things whatever they might stand or represent.

We will first look what Paul says here in Ephesians 3:20-21 and then finish up by making sure the above questions are answered.
Outline of Ephesians 3:20-21

The Prayer of Ephesians 3:14-21
Ephesians 3:20-21 form an extension to the prayer that the Apostle Paul started in verse 14. One could have connected this section with the prior without much difficulty. We have, however, a special opportunity to take a close look at this passage. Verses 20-21, although still the same prayer, is a different kind of prayer.

14 For this reason, I bow my knees before the Father, 15 from whom every family in heaven and on earth derives its name, 16 that He would grant you, according to the riches of His glory, to be strengthened with power through His Spirit in the inner man; 17 so that Christ may dwell in your hearts through faith; and that you, being rooted and grounded in love, 18 may be able to comprehend with all the saints what is the breadth and length and height and depth, 19 and to know the love of Christ which surpasses knowledge, that you may be filled up to all the fulness of God.

20 Now to Him who is able to do exceeding abundantly beyond all that we ask or think, according to the power that works within us, 21 to Him be the glory in the church and in Christ Jesus to all generations forever and ever. Amen." (Ephesians 3:14-21, NASB).

We all know that there are different kinds of prayer. Sometimes we cry, weep and ask God for things like barren Hannah, Samuel's mother. At other times we seek protection from known and unknown dangers. Still at other times we are looking back and seeing what God has done and we delight to see His marvelous works. In those prayers our heart is filled with thanks and praise.

In verses 14-19 we see a lot of the word 'you.' Paul is praying for them, the Ephesians saints and others who would read this letter (perhaps he was in a sense praying for us too!). This is an intercessory prayer. Oh, how much we need people praying for us. I send a letter out every 2-3 weeks with the hope that others join in prayer for our ministry.

Outline of Ephesians 3:20-21
Starting in verse 20, however,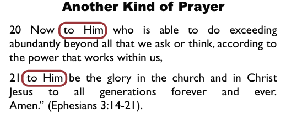 Paul so-to-speak changes direction. Instead of praying for others, he begins making a majestic description of God. This is what we call a doxology.

To help us better understand what Paul is saying here we will look at verse 20 and 21 separately. Each verse interestingly starts with a "to Him." In other words, God is being praised for two things, and this will form our outline: A) God's Amazing Power (Ephesians 3:20) and B) God's Amazing Glory (Ephesians 3:21).

There comes a time when we have heard enough of the facts about God's glory in Christ. We just want to shout praise and hallelujah choruses exclaiming His greatness. I am not sure whether you have ever been so compelled, but certainly Paul was. He intended for us to be so moved by the truth mentioned in the former chapters so that in the end the focus cannot, dare not rest on ourselves but on Him, our Lord, our glorious King and Majestic Lover. Let's now turn to a closer look at these two verses.