We need to remember that God's ultimate purpose in the earth and man is to bring glory to His Name. He wants to specially display to all His creatures His most wonderful character and ways. We have recently read that He largely does this through the church in Ephesians 3:10, "in order that the manifold wisdom of God might now be made known through the church to the rulers and the authorities in the heavenly places." Paul is showing all the Ephesians that though the then existing temple Diana was one of the 7 world wonders, it is nothing compared to what God is doing through His people, the temple of the Holy God. Let us first focus on what this glory means and then see how He brings it about in His people.

God's glory

"To whom be the glory." Doxology comes from two Greek words, the word 'doxa' for praise and 'logos' for word. This word is actually used in verse 21, the word for glory. Doxology means a word of praise or more simply praise. The strange thing about all of this is that somehow the church is bound up with this praise.

We should first remind us that this church that is mentioned here is the church that has compromised herself with the world. She has not loved God with all her heart or mind. The church we see around here is weakening by the day. The faithful are fewer in number while her enemies increase in every way. We know we should pray, but we don't pray. We might come to worship, but we rather hear our praise songs than really worship and tremble before His mighty presence. Through this doxology Paul is asking, stating or perhaps demanding that all the praise, the worthy judgments, would be ascribed to the Lord. He is the One who has done so much. He alone ought to receive praise and glory.

The arena to see His glory

If we are to see the sports team play, we would need to go to the stadium. If we want to watch a movie, we go to the theater. If we are to see God's glory, where are we to go? We are told to go to two places in order to see the glory of God: the church and Jesus Christ. Now we know that God is going to transform this world into a new heavens and earth. That will be special. Perhaps we could say it will be glorious. But we are told of a great glory here on earth. We must guard ourselves from applying this to another age for it is explicitly being spoken of our present age.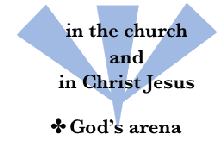 I suppose we are not surprised to see that this glory will be seen in Christ Jesus. We have already seen this in His past ministry. "And He was transfigured before them; and His face shone like the sun, and His garments became as white as light." (Matthew 17:2). We have seen it in His daily ministry where God would specially do all sorts of things. John summarized his gospel with these words.

Many other signs therefore Jesus also performed in the presence of the disciples, which are not written in this book; but these have been written that you may believe that Jesus is the Christ, the Son of God; and that believing you may have life in His name (John 20:30-31).

And of course we will see His glory in His resurrected state. I remind you that this is presently how He would be seen if one could see Him.

And His head and His hair were white like white wool, like snow; and His eyes were like a flame of fire; and His feet were like burnished bronze, when it has been caused to glow in a furnace, and His voice was like the sound of many waters. And in His right hand He held seven stars; and out of His mouth came a sharp two-edged sword; and His face was like the sun shining in its strength. And when I saw Him, I fell at His feet as a dead man. And He laid His right hand upon me, saying, "Do not be afraid; I am the first and the last (Revelation 1:14-17).

What is even much further from our minds is how the great glory of God is to be revealed in the church. It says here in verse 21 that God will be glorified in the church and in Christ Jesus. He leaves no doubt where God will make His glory known. He does not care for all those fancy meetings, advances in technologies or list of millionaires. We might not comprehend this, but it is true. The process has already started. It is for this reason Paul gets so excited about the mystery revealed.

The glory that He displays in the church is just like He does through Jesus. Like Jesus, we can think of past, present and future glory. The glory we see now is not as astonishing as what will happen in the future, but it is still rather remarkable for the power of God is revealed in her. One thing needs to be clear. The glory is not our own. It is God's glory in us. It does not derive from us.

Remember when Paul talked about our salvation, God made sure that salvation is not by our own works less we would boast. "For by grace you have been saved through faith; and that not of yourselves, it is the gift of God; not as a result of works, that no one should boast." (Ephesians 2:8-9 Read more). Why? So all the glory would go to God. Just because we have a glorious God at work in our lives, we should never confuse this by thinking ourselves as worthy of this glory. That would hide God's glory. God is jealous of His glory. Never steal it from Him. This is the reason pride always leads to a fall. Pride strips any possibility of convincing people that He is to be glorified. God hates pride because it is the ultimate delusion that defames His great Name and purports some idol in His place.

God is so able to show His awesome love, mercy and patience in that He has done it in a people so weak, helpless and bound in the evil one's throes of death.

Duration of His Glory

God is orchestrating all sorts of events, big and small, to build up our faith in His glorious ability to work in today's world. God is making His Name great through the way He redeems sinners from their slavery to the evil one. He is showing His infinite love in the way that He would call us to share the great riches of Christ for all eternity. He will be working in countless ways to display His glory, whether in what we call big or small matters. He creates helpless situations to bring us back again to call upon the all-able One to deliver us. Nothing is so grand as the work on the cross but every answer to prayer is a reminder that we are His children and that we now belong to His covenant.

The stories that are being made today will go down into history, His Story. They will be shared with other generations and shared for all eternity. Somehow that great and mighty God, stooped down to rescue people like us. Every intervention in this world is another reminder of His constant love toward us. More than this, it is a reminder that He wants to do more things in our lives. He wants to pick up where we gave up. Why? Simply because He is looking for occasions to make His Name great.

Do you have a little faith to use? Try Him out. He is looking for impossible situations to make His great Name known. After all, this is His purpose for His age.

"No longer do I call you slaves, for the slave does not know what his master is doing; but I have called you friends, for all things that I have heard from My Father I have made known to you. "You did not choose Me, but I chose you, and appointed you, that you should go and bear fruit, and that your fruit should remain, that whatever you ask of the Father in My name, He may give to you. "This I command you, that you love one another." (John 15:15-17 Click graphic to read more).

Would it not be awful if all the fruit we brought to Judgment Day was what we could produce on our own. All that we did only reflected our skills, our judgment, our riches, our talents. They are good of course. But God has said that He has a greater purpose of making His Name great. When we abide in Christ, Christ's power begins to flow through us so that we can ask anything of the Father in Christ's Name and receive it. Now this is the fruit that will be showcased through all eternity.

Humble your heart and let Him work in your life now.

Application

I would challenge each family to ask to make His Name great. Make it a yearly project. Tell your children what you are doing. Remember God is looking for opportunity to do it. We only need to humble ourselves and look for it.

I would also challenge you to keep focused on bringing glory to His Name. Do this in your worship, prayers, life, etc. Live for the purpose of praising Him. You will see it will bring a delightful change from focusing on our situations to His marvelous works. We turn from trying to gain sympathy for our situations to trying to make His Name great. Now, I do not mean, that we know how to make His Name great, but just eager to do so gives one a whole new outlook in life.

When we hear of the command, "in everything give thanks," we give glory to His sovereign power over all circumstances. God knows how we face difficult times. But in that tough time, He wants to show Himself great.

Summary & Conclusion

What does God's power stand for? God is constantly exerting His power throughout the world. He does it for the purpose of displaying His glory. When He shows how He does it in the church, we as the people of God should be alert to our opportunities.

These opportunities will be scary, no doubt, unless you love adventure. They take us out of our secure zones. People wonder how I can travel to dangerous places. I trust myself into God's hands. I first of all acknowledge that He who calls will watch over me and my concerns. I know that there is no safer place than in the will of God. And frankly, one day I will leave the world. There would not be a better way to go than in a way that brings extra glory to His Name. No one can take my life before He wills it. Man is not in charge. We all need to live for His glory rather than for ourselves. On the other hand, I should mention that I had to cancel one trip because it was not a good time to visit that country. Their national elections are very unstable. That is fine too. The point is that we only want to go where the Lord wants.

We see God's power at work whenever we allow the Holy Spirit to work out His mysterious and marvelous love in our lives. We see His glory when we exercise the same patience to people who have threatened or betrayed us as the Lord has.

What does God's power stand for?

Why would God choose the church for this?

Does He really want to work in my life?

How do I bring more glory to God?

His power is seen in hundreds of little and big situations, none of them are to be despised.

We must live for God's glory and not our own. We need to decisively say to ourselves that our end goal is not to be a great man or woman of God, not to have a big or awesome church, but to bring glory to God. Otherwise, we will subtly fall short of His glory.
We need to join Paul in His great praise to God for His glorious power and glory. Only He should receive them. Our inclination to take praise to ourselves should be rejected, and instead remember how He has empowered us to do great things for us.

It was God who had a mysterious person lock my garage door and get bound up. Yes, it was partly due to my poor memory and busy schedule. But this is life, isn't it? It is here we can bring further glory to God when we turn the situations over to Jesus, as Mary did, and trust Him to work it through.

The excitement of living for God's praise is quite unlike any other situation on earth. We feel really good about giving Him glory. We know it is right, good and lovely. Step back and let God do it!