The truly successful man knows what is yet needed to fulfill God's vision. The fact is that until we understand what God is trying to accomplish, we will never know what is yet to be done. In order to do a subtraction problem, we first need to know the original sum. Many people try to say this or that would improve the church, the worship service, the sermon, the Sunday School, the cell group. But without a grasp and commitment to the total plan, we are only fooling ourselves and destroying the church. Perhaps we are like those in Nigeria who were tapping into an oil pipe to get a bit for themselves. They were confident about their plans. It sounded good to others too. At least 200 people died in the explosion. That is a whole lot of people not casually hanging around a dirty oil pipe.
When we look back at Joshua chapter 12, we see a summary of what was done under Moses and Joshua's leadership. Joshua 12:1-6 speaks about the land that Moses conquered on the east side of the Jordan. Joshua 12:7-24 speaks about Joshua's victories on the west of the Jordan. Joshua 12:24 says there were 31 kings toppled in all. This is a phenomenal record, especially considering very few Israelites lost their life in the process. The Lord, however, wanted to be sure that Joshua rightly passed on the vision and the need. Only by knowing the overall purpose, can we rightly evaluate the situation. Unfortunately, many of us judge by relative standards rather than God's standard. We measure by how much was given last month or how many attended last week. We make comparisons.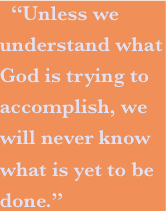 The Lord was not going to allow Joshua to make this fatal mistake. This is the way a vision quickly dies. Once we measure things this way, then several problems develop. (1) We either despair because we are doing poor or are prideful because we are doing comparatively well. (2) Our eyes are taken off of the final goal. (3) Our strategies are made only with the partial goal in mind. (4) The church becomes off course as it step by step departs from God's vision for the church. Let's hear the Lord's important words,
In verses 2-5 we see the Lord outlining the areas that still need to be conquered.
This is the land that remains: all the regions of the Philistines and all those of the Geshurites; from the Shihor which is east of Egypt, even as far as the border of Ekron to the north (it is counted as Canaanite); the five lords of the Philistines: the Gazite, the Ashdodite, the Ashkelonite, the Gittite, the Ekronite; and the Avvite to the south, all the land of the Canaanite, and Mearah that belongs to the Sidonians, as far as Aphek, to the border of the Amorite; and the land of the Gebalite, and all of Lebanon, toward the east, from Baal-gad below Mount Hermon as far as Lebo-hamath. (Joshua 13:2-5).
Let's notice the areas still remaining to conquer: 
The analysis could only be given after a picture of what should be done remained before him. Remember, it was the Lord doing this. It is a good and healthy example to do. By looking at what was done in the past and by looking at what other great people have done, we can get a false (and I should add deadly) confidence about ourselves and our situation.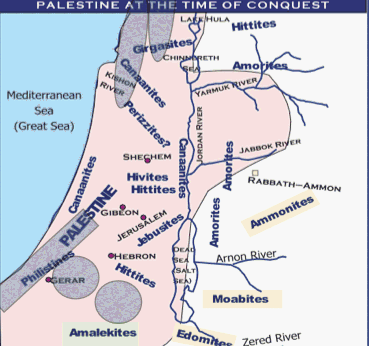 Think about God's words for a moment. Did God want Joshua to feel accomplished? Did God congratulate him here for all his faithful work? No, He did not. He and the people did well, but the real test was to come. The unwise general will oversee the enemies' resources and hidden plans. Let me give you an example. They are real common.
We tend to put a lot of emphasis on evangelism. This is a task focus. this is only part of the goal. If many come to the Lord, we are happy, contented and settle down. But what is the vision? Clearly it is to pass on the truth of God so that they obey the Lord like Christ. This is the Great Commission. Evangelism is only part of the task, but because we are content with doing only part of the task, we cause many of God's people to be so weak, we are guilty of living for smugness. The work only began. The house was only partly built.
Another example is with the family. Because many Christians have faulty understanding of God's ways as revealed in His Word, they are content to allow a lesser standard than should be go on in the home. Sometimes this is a father who neglects the home. Or it is a mother who is more committed to her career than her family. These both are clearly wrong. The church has not been faithful in planning the number of children they think they should have around their plans of wealth. For thousands of years we have been unable to do this. Now because we have separated the sexual act from the potential to have children, all sorts of sins have crept up. Greater temptations are coming. Soon, no doubt, it will be considered uncouth to bear your own child. We get someone else to do that. Unless you have a vision of the family that God gives you and settle on it in your heart, you will smugly think that your decisions are Christian. But I tell you, they are not.
We should never judge how well we do by what has been done so far. This can lead to all kinds of self-deception that things are fine. Let me give you another example.
A budget should reflect significant plans. Most churches have a tiny mission budget. If a church gives 5% of its budget to missions, then it thinks it is doing a lot. Or if they do, then one needs to analyze what comes under the category of 'mission.' Often it includes many activities that are in the end void of spreading the gospel. As much as it is nice and good to give food to the hungry and help people in desperate straits, we need to be reminded that unless the word of the Lord is speaking to the hearts of the people, then they will still perish. We are only keeping people alive a bit longer and perhaps more deceived. Check out the budget. Check out your own family or single budget. What is good? Do you know what God would want you to do? Do you make sacrifices to help support missions? Or if we look at our time, do we spend time praying for the advance of the Gospel worldwide? Do you spend more money on yourself for frivolous things than the Lord's work? Churches rarely have prayer meetings anymore. They have become comfortable. That is because they have lost the vision. The Lord here puts before Joshua, and the people of God, what is remaining. He doesn't allow us to look at the accomplishments but what is still to be done.
Let me share one thing that I have done. We are a faith mission. We receive very little, but from all that we receive clear we take out ten percent and strategically give it to others. This is not our personal tithe. We do that too. It is not easy to make such commitments. they need to be made in faith. They will always be challenged. But this practice certainly helps us have the right approach. We have been able to pray that even if we did not have enough from our perspective, God's work around the world is more important than our own needs. We are not talking about a great amount. But clearly, because of the greater vision, we have been able to live by faith in the living God and accomplish something that otherwise would never be able to be done.  What sacrifices are we making? Are we living as if something is not yet finished? I hope so. Because there is a lot yet to be done.
So let's ask ourselves, "What yet needs to be done?" How do we apply this to ourselves since it is certain that the Christian church has no business trying to take those properties?  What is left to be done? Who is to do it?
It is clear that the Great Commission of making disciples of all the cultural groups around the world is still not fulfilled. As much as we might have a burden for our locality, we can never dismiss the worldwide vision from our lives. This is the reason we set a month aside each year focusing on this. We should be excited by what God is doing. Do you realize that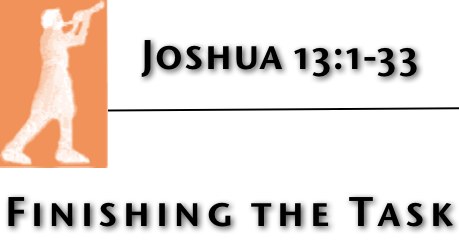 Christ's church and mission is expanding throughout the world today to an extent never seen before in history. This growth is taking place primarily in Asia, Africa, and Latin America.  By some estimates, 150,000 persons each day are becoming followers of Christ. 
And yet, there are many unreached people groups around the world still without the gospel. God is making many breakthroughs each and every day. For example, the country of Papua New guinea's man people groups are 86% reached. This still leaves 14% but they themselves probably can and will soon finish this task. On the other hand, 100 of the largest unreached people groups, (47 India, 8 in China) consists of 128 million people. (Check out: Joshua Project - Unreached Peoples Listings). Several mission groups have taken the original vision picture, the total sum including all the people groups there are and subtracted out those who are yet unreached. God is looking for hands for people who will give his life to reach these last unreached mission groups.
I recently was speaking to two couples who were going to these unreached people groups.  One is far away in the highest mountains in the world. The wife doesn't like the cold being from a subtropical place! But she is going. May God bless her and give her the grace she needs!  Another couple is going to a far away land in the midst of the great Euro-Asia continent. They have a greater vision that helps shape their decisions. They had great secure jobs here but are giving them up because they love their Master's vision.
We can now see the end. The vision of reaching the last unreached people groups is quickly coming to be fulfilled.  More and more information is being stored. More and more churches and individuals are focusing their work on this task. It does not mean we neglect reaching those around us, but we cannot be satisfied until the world is hearing the gospel. The word for nations is actually the word for 'ethnic race.' We want each sub-culture to hear the Gospel whether it be high up in Tibet, in the frigid places of the Soviet Union or a remote village in India.
God is working out His great plan. The truly successful man or woman don't necessarily need to travel to the earth's ends, but he or she does need to be very aware at what God wants for them on every tier of their lives. They are the ones that know what God wants and therefore know what God still wants done and prioritizes that in their lives.

Mothers, like all of us, need to ask themselves,  "What does it mean to be successful?" "What does God want of them?" Many mothers today think it is to have a good career. Is this what God wants? Not at all. This is the world's perspective. A successful Mom is one who carefully shows her children how to live devotedly to God by being a good wife and mother. A successful Mom who models sacrifice. She sees through the world's veneer and responds to God's greater calling. 

The prestige of having some job or title is very tempting to many Moms. They like having the power of the money and the independence assoicated with it. They can do what pleases them. They can join in the fashions of the day. But this is not success in God's sight. They have abandoned their primary call to motherhood. If a woman is not called to have children, then she should not marry. But if one is not marrying a man, then the scriptures clearly say that she lives married to the Lord. Many women have deserted the Lord and have had an affair with the god of materialism.  May none of us fall under such condemnation. May all the women here, single or married, desire God's success and put off the affairs of the world. "But women shall be preserved through the bearing of children if they continue in faith and love and sanctity with self-restraint" (1 Timothy 2:15).