– A Life Commentary –

Paul J. Bucknell

True success depends not only how well we have carried out our own specific duties but also on how we have inspired, encouraged and equipped others to join in doing God's kingdom work. Each man is responsible to be part of God's work. We are called to be involved.
The truly successful man inspires vision and distributes the work while still living.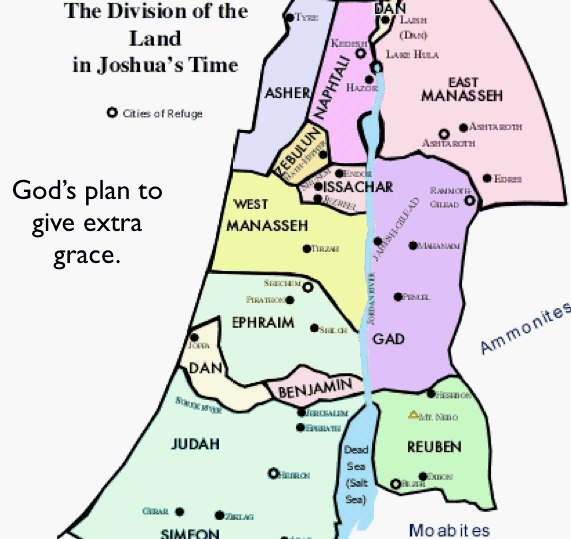 Please remember that the Lord is still doing the talking here. Joshua was hearing about what was on God's mind. This is recorded for us, even though the places and people are unfamiliar to us, because it reveals a very important part of preserving and accomplishing God's work. Let's first discuss what He says and then apply it to our own lives.
The Lord said that He was going to divvy out the land in two large chunks. The 2 1/2 tribes were going to receive the land on the east of the Jordan River which Moses had taken. The 9 1/2 tribes were going to possess the territory on the west of the Jordan River.  That would include the tribe of Judah where Jerusalem is. The Lord speaks about the 2 1/2 tribes from verses 8 to the end of the chapter. Chapters 14 to chapter 19 describes the land given to the other 9 1/2 tribes on the west side of the Jordan. This is most interesting.
God spends chapters 6-12 summarizing describing the actual battles. But then he spends chapters 13-24 to describe the distributing of the land. Half of the book is filled with action and miracles; the other half consists largely of a long monologue and a meeting at the end. The first includes scenes from all over the land like one of the nice travel brochures that one might receive. The other is like a long history lesson that is already 15 minutes over class time. Let's read one section.
So Moses gave an inheritance to the tribe of the sons of Reuben according to their families. And their territory was from Aroer, which is on the edge of the valley of the Arnon, with the city which is in the middle of the valley and all the plain by Medeba; Heshbon, and all its cities which are on the plain: Dibon and Bamoth-baal and Beth-baal-meon, and Jahaz and Kedemoth and Mephaath, and Kiriathaim and Sibmah and Zereth-shahar on the hill of the valley, and Beth-peor and the slopes of Pisgah and Beth-jeshimoth, even all the cities of the plain and all the kingdom of Sihon king of the Amorites who reigned in Heshbon, whom Moses struck with the chiefs of Midian, Evi and Rekem and Zur and Hur and Reba, the princes of Sihon, who lived in the land. The sons of Israel also killed Balaam the son of Beor, the diviner, with the sword among the rest of their slain. And the border of the sons of Reuben was the Jordan. This was the inheritance of the sons of Reuben according to their families, the cities and their villages. (Joshua 13:15-23).
Each description would describe the border and the larger cities so there would be no dispute over the boundaries. As it said in verse 23, this was the inheritance of the sons of Reuben. Why is the distribution of the land so important?
For one, we find it was a legal document. It actually served as a specific document which recorded borders. This protected people from arguments. These words would shape the destiny of the people. We do not think about being bound to the land now-a-days. If we want to study in NY, we go to NY. If we want to live in Seattle, we move to Seattle. A lot of freedom is given to where and what one does in a certain country. Some have even found freedom to go from one country to another. Whether it is temporarily or lifelong changes in our lives, we have experienced life in far away places. This is a remarkable opportunity that we have today. But for the Israelites, according to who their father was, they were bound to live in a certain land. And of course, they would be later bound to a certain tract of land.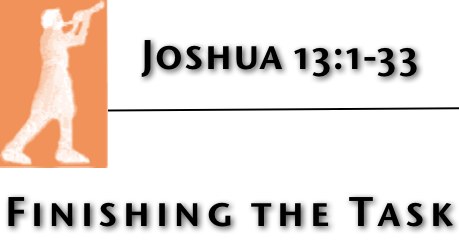 But more importantly, the actual responsibility that the Lord has given them associated with the land is being passed on. The Reubenites, then, would be responsible to finish eliminating the enemy from their land. In order for this to happen, the people of the Reubenite tribe would need to posses a faith like Joshua's. This would be true too for the Gadites, the Judahites, the Benjaminites, etc. Each tribe would need to have that vision that propels them to allow God's work to steer their decisions.
They could not reminisce about the good old times. "Do you remember that time we marched around Jericho? Do you remember what their faces looked like?" They could not sit back and munch on chips as they watched a documentary. Each tribe upon receiving the land all of a sudden became responsible for using that land in a way that pleased God. We are reminded of the parable of the minas in Luke 19. Once one has received what God has given to him, he is obligated to attentively respond to it.
We, then, have each become a steward of our possessions and person. As a body, we are responsible for doing different things. If there is going to be a light where we live, we know that we have to have this greater vision occupy us. We are not saying that we are the only church in this location. We acknowledge God's churches that love Him and other Christian groups. But once we are God's people and He lives in our presence, we become responsible for the area around us. If God has led us to be focus on a special outreach, then we are responsible for that group. But again, it is God's greater vision, that shapes us as a church and in the end individuals within that church..
Many questions about the will of God for our lives are pretty clearly defined when we look closely at God's comprehensive program. We should be vision controlled rather than law controlled. We do not need the church to make a rule that we should not watch television. This points us in the wrong way. Instead, we should cast out a vision on what God does want us to do. The scripture often does this. It gives us a picture of what women should wear- be modest. (Though it will also let us know when things are wrong if for some reason we cannot bring ourselves not to do something). These broader strokes are meant to incite a flame within us for God and His work.  Since we are not slaves, we get to make up our minds with what we do with most of our time. We have wealth that we are responsible for. We have certain physical strength, health and knowledge. We have spiritual gifts.  And yes, we have our special interests.
We have spoken a lot about success in this series. Joshua is passing away. His life is about over on earth. His personal mission accomplished. But don't think that means God's work was done. Once His great work is done, Christ is coming back. With Christ's first cry, "It is finished!" He died. But upon the second cry, "It is finished!" Christ will return. 
Joshua was not supposed to conquer it all. Jesus purposely didn't finish the work to be done on earth. The point is, and as this extended section on Joshua shows us, God is interested in giving responsibility to others so that everyone can share in the way of rewards. Part of discipleship must include a section on passing on the grander vision of what God is doing and how God expects them to take part. This was going to be an opportunity for others to show their initiative in getting done what God wanted done. Each of our lives, then, becomes a special opportunity to commit ourselves to the Lord and accomplish His will. We cannot just state that we are a Christian. We need to then assess what God has given to us, understand God's overall mission and strive to accomplish all that He has called us to. There is nothing so rewarding than living for God.
General Application
As we have looked at Joshua, we have seen that gaining the whole land has certain applications to our lives within the kingdom of God.
We are to gain complete holiness. We might not be able to make our friends holy, but surely we can be holy. To the degree we chase out sin from the land (our personal thoughts and lives), we will please the Lord and be richly fulfilled. 
We are to devote ourselves to completely fulfill the Great Commission. There is no doubt that God has given all of us the responsibility to make disciples about the world. Every Christian needs to know how to make disciples. Every Christian needs to make disciples. For some of this, this will be more informal than formal, but don't let your responsibility be washed away in vagueness. The Lord doesn't want to hear, "I didn't know how to make disciples" or "I was too busy" from your lips. If God calls you to some busy profession, then He also expects that in the busyness of a professional that you do His work.
It is important that we note the needs of what God yet wants to do. This is where He will do all sorts of miracles in order to accomplish the impossible.
We need to stay immersed, day and night, in God's Word for it is here that we will find divine protection and leading. It is here that we will find God's promises to move along God's path.
We have been given the charge. We cannot make excuses such that "I am not a preacher." Or that I don't understand theology or haven't been able to read God's Word. God has commanded us to conquer the land. we can stay on the sidelines as we mature, but sooner or later you must realize that you yourself now have to make a difference in what happens through your life.
Summary & Review
I was recently at a meeting that had its prime focus to come up with ideas that we could train up young Christian leaders. We brainstormed on how to do this, but before this was done, the man presiding introduced why he had such a concern. A researcher on statistics for the Christian church said that the most influential group in winning young people to the Lord was their peers, no longer their families. About halfway into our discussion, it became evident that the key to this problem was not that this peer pressure was new but that the involvement of families upon their children had dramatically dropped.
Our children have been succumbed to one or more of the many young cultural subgroups out there. Christian children were adopted out by busy money-making parents and adopted in by their peers. Their parents have lost their influence over their children in a general way and more specifically neglected spiritual training. Instead of trying to help these young people reach the peers, our group, in half-shock, recognized that the vision of God and what He was doing was not being passed on to their young through their families as it should be.
A successful man is one who has gained the vision of God and passed it on. Our greatest mistake is concluding that what we know is God's vision. We are far to fast to conclude that our concepts of a good mother, church, colleague, etc. are the same as what we think. The truth is that many children are suffering because their parents have never trained them. But the problem is more widespread than this. Our poor concepts of the church and what is a Christian allow our worldly thoughts to be considered normal. We think God's thoughts are just like ours. May we humble ourselves in the presence and knowledge of God and begin to once again draw close to God.
When we do not rightly transfer a godly vision onto the next generation, the church quickly degenerates into the world. The church has seen many problems come up in the last several generations. It would appear that the church is the same, but it has become a priest of the world rather than a priest of the Almighty God. People think and call themselves Christians but do not recognize that they they look more like the world than their Father in Heaven. No wonder the church of God is wobbling about.