Finishing the Task

'Lives by Faith' based upon Joshua 13:6 reveals the way accountability and stewardship work along with responsbility. God gives us grace to accomplish what we need to do. "We lack nothing." This is part '4/6' of the Life Commentary series on Joshua 13:1-33. A Bible Study forms the last part. A full index is at the
bottom
.
C. Lives by Faith (Joshua 13:6)
True success depends not only how well we have carried out our own specific duties but also on how we have inspired, encouraged and equipped others to join in doing God's kingdom work. Each man is responsible to be part of God's work. We are called to be involved.
The truly successful man is spurred on in faith by the promises of God. Behind this thrust is not man's will power but God's grace. Grace is that special empowering that God gives so that we can rightly get a task done. This is what is spoken of in verse 6. "All the inhabitants of the hill country from Lebanon as far as Misrephoth-maim, all the Sidonians, I will drive them out from before the sons of Israel; only allot it to Israel for an inheritance as I have commanded you" (Joshua 13:6). This is what we have been seeing all along in the Book of Joshua. The Book of Joshua is not a record of man's greatest feats but of God's. The vision is God's and so is the power to get the things done. If anything is mentioned about man, it is his faithfulness in doing the things that God asks of him.
If we are going to see God work wonderful things, we only need to obey and believe. We need to desire what God desires. "Whom have I in heaven but Thee? And besides Thee, I desire nothing on earth" (Psalms 73:25). When we set our heart to seek God's ways, nothing stops Him from working. Solomon had a great task to take over from David. David built up a great kingdom by God's grace. How was he going to watch over it? Many of us would focus on the opportunities of the position rather than the responsibility of it. When asked what God wanted, he did not ask for himself but for the people. Notice how God withheld nothing from him.
In Gibeon the LORD appeared to Solomon in a dream at night; and God said, "Ask what you wish me to give you." Then Solomon said, "Thou hast shown great lovingkindness to Thy servant David my father, according as he walked before Thee in truth and righteousness and uprightness of heart toward Thee; and Thou hast reserved for him this great lovingkindness, that Thou hast given him a son to sit on his throne, as it is this day. "And now, O LORD my God, Thou hast made Thy servant king in place of my father David, yet I am but a little child; I do not know how to go out or come in. "And Thy servant is in the midst of Thy people which Thou hast chosen, a great people who cannot be numbered or counted for multitude. "So give Thy servant an understanding heart to judge Thy people to discern between good and evil. For who is able to judge this great people of Thine?" And it was pleasing in the sight of the Lord that Solomon had asked this thing. And God said to him, "Because you have asked this thing and have not asked for yourself long life, nor have asked riches for yourself, nor have you asked for the life of your enemies, but have asked for yourself discernment to understand justice, behold, I have done according to your words. Behold, I have given you a wise and discerning heart, so that there has been no one like you before you, nor shall one like you arise after you. (1 Kings 3:5-12).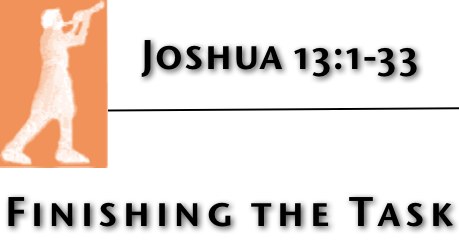 The task before the Israelites was to get rid of every person within a certain boundary of the land that God had defined. In verse 6 he mentions the hilly country where the Sidonians lived up by Lebanon. God says He will drive them out. What is Joshua to do? He is to allot the different territories to different people. We will discuss this more in a moment, but we need to remember that because God wants to accomplish His will, He has provided what is needed: visas, money, health, miracles and special appointments. It is all so marvelous. What does it practically mean?
We might be some little boy who wants to do something great for God. Remember David out in the field. Everyone else ignored the little boy with his slingshot, but that boy had a vision of something greater. He wanted to use that slingshot for the Lord. Of course, it was impossible from a man's perspective. A boy is a boy. But you know the story, do you not? No matter how small or poor you are, do not despise God's vision set aflame in your heart. If the vision runs with the larger vision of God, there is nothing to hold you back.
Satan of course, will do his best to discourage you. "It's no use! Give up." But I tell you the truth, the closer to fruition, the louder Satan's voice becomes. He is pulling out all the tricks in his bag to stop you. Live by god's promise. Choose now, despite what happens to you and your family, you will trust Him to accomplish His work. After all, it is His work. Praise God all we need is our faith. We might be struck ill on a bed. we might not be able to move our lips. But we can still have faith in God! It does not rest on us but on God.
What we need are those men and women who dare believe God's promises. Many Christian speak about New Testament days, but few are the ones who will start praying like they prayed. They have this movie to watch. They have to take this class. They want to busy themselves with that investment. Do you remember what John the Elder so confidently told God's people?
And this is the confidence which we have before Him, that, if we ask anything according to His will, He hears us. And if we know that He hears us in whatever we ask, we know that we have the requests which we have asked from Him. (1 John 5:14, 15).
He knew nothing stopped any person from accomplishing what God put on their heart. God has promised to be with us. Let the words of God, "I will drive them out from before the sons of Israel" encourage your faith. This was not for Joshua but for the people that would inherit the land. Joshua would go on, like Jesus did. There would be work left. But God's Spirit would still be with us to accomplish the great work of God.
Don't let your old, middle or young age stop you. Next week we will hear about a phenomenal story about how God finally allowed an old man to fulfill his dream. But if God does it for the old, the poor, the castaways, or as David said, "the littlest town of the tribe of Judah" what is there to stop us when we align our heart with what God wants to do.  The vision exposes the needs but the promise provides grace to fulfill those gaps.
Those who are truly successful focus on God's vision and His power to get it done.
Next > The truly successful man inspires vision and distributes the work while still living.