Part 5/5 of "Not Too Late to Reach your Teens (Applying the Solutions - Part 2)" guides the parents on how to put a new vision for the renewed parent/child relationship between themselves and their teens.

Problems (Part 1): Family Problems | Solutions | Problem #1 | Problem #2 | Delinquency
Solutions (Part 2): Barriers | Let's Solve it! | Confession | Steps of Love | New relationship



(3) Instruction on new parent-child relationship
Who would spend all the time taking down an old building and then just leave the mess there? If we are going to take it down, we should anticipate building up a new one. Confession takes down the old relationship with its guilt. Whether the child has forgiven us or not, we can go forward and start building the new relationship with him. The key element is that we have taken our own wall down.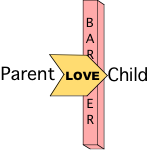 Once we have sought forgiveness,  our own wall has come down. Now we can begin to exert our love and touch the heart of the child. As long as our own wall is up, the child is not able to feel that love. Love can break through just like light breaks up darkness. The parent needs to show this, though. This is one reason our own pursuits of life must change. We will not change our lifestyle if we think it is all the child's fault. We will be stuck in our own patterns.
Real change can begin when one side takes down their wall. The reason for this is now love can begin to cross over that barrier. It might take time before the child acknowledges your love, but the wait is worth it. Your relationship with that child now has become very important to you as it should be. We want to explore now how to begin building a good parent-child relationship.
• Feels odd
Don't be surprised if doing this feels funny. After all, you have not done this for a long time, if ever. Don't make decisions according to how you feel. This is how you got into a bad situation. You do what is right because God calls you to it. You might need to remind yourself of this regularly for a while. Simply pray,
"Lord, you know I used to live by what I felt was right. I made a lot of  bad decisions. But now I want to live by what you want. Please help me to know and do what you want. Amen."
• Keep God's principles out front
It is important that God's principles are continually on our minds. Take that list of sins and  on an other piece of paper write, across from the list of sins, a couple of practical things we could do. Each of these things would be opposite to what we have formerly done. For example,
Before:

Yelled and didn't talk to our child when he refused to listen to me.

Now:

Gently call or make a time in the future where you will talk.
Principle:
You are keeping lines of communication open. You want to foster a relationship that pleases the Lord by extending care for the child even when he is in the wrong.
"But the wisdom from above is first pure, then peaceable, gentle, reasonable, full of mercy and good fruits, unwavering, without hypocrisy" (James 3:17)
.
Before:

I would keep the child from church so they could study more.


Now:

I will encourage the child's spiritual growth even if this affects their grades a little.
Principle:
Seek first the kingdom of God and Hid righteousness all these things shall be added to you.
• Develop a vision for a good family
You want to share with them a great vision to where your family is heading. In some ways, because time is short, you will need to speak a bit more 'loudly' than otherwise. For example, before, you might have neglected time with the family. Perhaps you were stingy (with time or money). In this case, you would share about a trip you are planning for all to go on. Start making plans. Ask where they would like to go.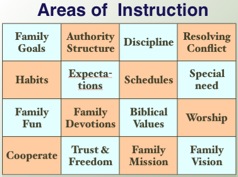 Mention how you want the whole family to seek the Lord (the dad should lead here). Admit that because you did not live by God's Word, you would just go by your feelings (and flesh). But you know God's principles of love are much better. You need to learn and hope everyone learns together. As a result, you will regularly meet as a family (determine time) to read God's Word and pray together. In the accompanying chart, many different areas for establishing a 'new' family need to be worked out.
For example, it might be helpful to map out how disagreements will be handled in the future. Some families have a rule that when there is a disagreement, that everyone that is part of it must go and sit at the kitchen table. While there people take turns giving their point of view, and no one is allowed to raise his voice. If his voice is raised, then he loses his turn.
Through these different items you as a parent are trying to reverse the patterns set  up by past sins (omission and commission). You want to avoid those evil things of the past and purposely allow, encourage and foster those things that develop godly relationships. Now you will be a proactive parent, busy accomplishing what God wants done.
Summary
Much can be said about what can be done. This article was devised merely to get the family back on track. It might take a while or it might happen very quickly. Have your friends and family pray for you. You might be so humbled by your many sins that you put it off. But it is a trick of the evil one to keep it private. Do not let pride keep you from doing the right thing. He will suggest it is okay just to 'forget' the wrongs and do better. Sins need first to be confessed so that they can be forgiven. Satan's shortcuts never work. In the end, it is better to let a few certain caring people know about your plans so that they will pray for you (especially if they are people that pray).
If you are in the ministry, and things do not clear up right away, you should consider backing away from future obligations until things work out better. Again, you should discuss this with your leaders who are responsible for those areas of ministry. If a parent who has been very active in the church steps back until things are running better at home, it enables him to have more time with the family and the Lord. One cannot have a good ministry (in the eyes of the Lord) unless his family is running well.  
"He must be one who manages his own household well, keeping his children under control with all dignity (but if a man does not know how to manage his own household, how will he take care of the church of God?);" 1 Timothy 3:4, 5.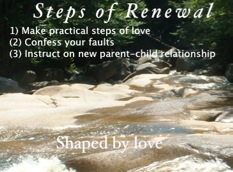 You need to have a mentality that you are going to show your love to our children even if it takes all your life. It becomes an all encompassing passion in your life. Your circumstances might prevent you from spending a little time with your children. You must work through that until God rectifies your situation. Perhaps you can write and become a prayer warrior for your child.  
The parent that has done poorly should look at homes that are doing well. Get to know them and ask them how they do this and that.
Our Hope
As parents we make the right decisions because this is what God wants. We hope from all the various changes, that our home becomes a more lovely place filled with His grace. We want it to become one in which God reveals His love. We hope that not only our barriers come down but also one day that the resentment and bitterness piled up in the heart of our children is eliminated. Then we will be a family known by His grace. We will be what we are, not because of how good we are, but because God's mercy and help in restoring our home.
Why don't you take a look at what resources BFF offers other than on the web? Many of these long articles are in eBook form on Libraries making it easier to read, print and share! Or we have many series in print. If you see an article that you want printed, we can do that for you too. BFF Resource Center
---
Problems (Part 1): Family Problems | Solutions | Problem #1 | Problem #2 | Delinquency

Solutions (Part 2): Barriers | Let's Solve it! | Confession | Steps of Love | New Relationship

---