Part 4/5 of "Not Too Late to Reach your Teens (Applying the Solutions)" provides specific steps of love the parents can take to help their children know of their love.

Problems (Part 1): Family Problems | Solutions | Problem #1 | Problem #2 | Delinquency
Solutions (Part 2): Barriers | Let's Solve it! | Confession | Steps of Love | New relationship



At this point, we need to quickly proceed into building the parent-child relationship. We need to instruct our child on what the new parent-child relationship will look like. We can think of confession, as the first step of love. Love is honest about our failures and so we confess, but there are many other aspects of love that we need to quickly put in place if they have been lacking.
(2) Make practical steps of love
A sure and constant love is the best means, perhaps the only means, to reach the heart of the hardened child. Remember, although we might have formerly thought that love showed itself in providing physical things to the child, this is not their only need. They need to feel loved and wanted. When that love is provided, then we have the basis upon which to build a good, strong relationship.
Great relationships are always built on love. Even though we as parents should have given this love to our children when they were infants, some of us were too busy or just caught up in having a quiet home to really care about our children. It is time we give that love to them, whether they are six, sixteen or thirty six.
Even though we love our children, our children also have their own flaws. This, in and of itself, makes things difficult. But all the means that we use to constrain our children will work against itself if it is not done on the basis of love. Bring back that love and start building a new way to relate to your child (without that anger, pride, etc.).
We will speak more on how to rebuild that relationship in just a moment, but we also need to think what it means to love an older, now obstinate, child. Right now, your child might not even want to talk to you, let alone share from his or her heart. Your child already has a network of friends that are unacceptable to you. Your child has a host of habits that you do not like. It seems like an impossible situation to rectify.
Let us look at these things from another point of view. We are not just loving our children to get our children to change. We are loving our children because we are reflecting God's love to them. Love is now going to be a way of life for us. It will take a lot of work. We will have to make sacrifices. Jesus' second great command was to love others as you would want to be loved. Or in other words, do for others what you would want others to do for you. Or again, treat others in a way that you would like to be treated. You might need to go back to your childhood days to reflect on how a child thinks.
Are you ready for love, God's love, to be the source of your love? This will completely change your life around. Mankind was designed to love others. We were made to reflect His love in our lives. We are not going to love our child  just to get him to do something. We are entering a new way of life, whether our child changes for the good or not. In the end, our hope is that our children will not miss or easily dismiss our love.
So how do we get this love? Fortunately, God has made it easy to get. If there was any charge or cost, He paid for it. He really wants us to get off to a good start. John says it in a most powerful yet terse way,
"We love, because he first loved us" (1 John 4:19)
. We do not gain love just by trying hard. I know many people think they can do this, but in the end, they eventually lower the standard of love or quickly forget about what they had committed themselves to. This is because we have an evil sin nature that will, again and again, combat any notions of genuine love and finally succeed and win.
We gain God's love by first having our hearts opened to His love. When we see how He loves us, then we can in the same way love others. In a sense, it is just like the situation that we face with our obstinate child, except we are the obstinate child. God is our loving Father. In our hardness of heart we have resisted what He wants to do in our lives. We have done enough to be thrown out of the family. But through an act of love He enabled us to be restored to Him. He sent Jesus Christ to die for our sins. This sacrifice for wicked people like us clearly reveals God's love for us. This step of love serves as a model of how we are to live out our lives, including to love the unlovely.
Paul summarizes love in a most powerful way.
"Love is patient, love is kind, and is not jealous; love does not brag and is not arrogant, does not act unbecomingly; it does not seek its own, is not provoked, does not take into account a wrong suffered, does not rejoice in unrighteousness, but rejoices with the truth; bears all things, believes all things, hopes all things, endures all things." 1 Corinthians 13:4-7, NASB.
So God's love of having His Son die for us did two things for us. 1) It provided our own forgiveness of sin through which our relationship with God can be restored, and 2) It becomes the motivating force for us to love even when it is hard. Love is now our calling. When we are touched by His love, then we can also live in the spirit of that love.
The Steps of Love
Let's think through some practical ways that we can start to show love to our children.  Let us take some words from 1 Corinthians 13 and apply them to our relationship with our children. We will focus on only three aspects. Remember, love affects all parts of our relationship with others including our speech, desires, attitudes and actions.
Love is patient.
This means that we will listen to our children. We might disagree with them. We might think we know what they want or what they have said. But, nevertheless, we will be patient. When our child yells out, "You just don't understand!" it will be a signal for us to slow down, put aside our anger, sit down and say, "You know, maybe I don't really know what you are saying or why you are saying it. Could you carefully explain it to me? I would appreciate that."
One of the problems parents have with their children is poor communication. By being patient, we can take the opportunity to really listen to the child. By listening, (maybe not agreeing), we can actually open a door of communication. If the child cannot express him or herself well, don't get prideful that you are right. Give the child time and arrange another time to talk more about things. You might also suggest that the child write down his thoughts and feelings. One of our children communicates much better by pen. Often times, it is because of a lack of patience that we have poor communication.
Just do not be surprised if they express how upset they have been with you. This is good if they can express it. It shows they have identified some problem and that now trust you with it. It might hurt you to hear about your failures, but that is okay. We have hurt them! Sometimes things will to get worse before they get better.
Love is kind.
 Let us apply this principle of kindness to our lips. That is, what we say will be kind. In order to better appreciate this, you might think how you would want people to speak to you in different situations.
The scripture says that we need to speak only what is truthful and kind. We will start right where we are. For example, many parents are really critical towards their children. They are critical without even thinking. It has become 'natural' to speak with spite. We want to do the opposite. We want to become those parents that are kind without thinking. I personally have had to struggle with this. I have come a long way, but at times am reminded that I still have a long way to go.
A kind word is one that is spoken gently with love. You say it in a nice way. There will be times when you need to rebuke your child. The words will be more demanding. But still they will be based on what is best for the child rather than what is convenient for you. For example, say your child comes back late. He promised to be home on time. When your child sees you, he has come to expect a storm to be unleashed. He cringes. But instead, you talk nicely to him as an adult. "Hey, I noticed you came in late. Was there a reason for this? I have been disappointed in the way this has happened the last few times. Why don't we go out for some fries (to eat something) and talk about it? I need to understand what is happening more in your life. I want to hear what is going on in your life. I haven't been listening too well lately."
I am not suggesting that every time this happens that we take our child out for something nice to eat, but I am suggesting that we turn our conversations upside down. Some fathers are upset that their authority is challenged and their increasing resentment affects their conversations with their children. But we should not focus on our feelings but on what the Lord wants. The thing the child expected least is to be treated special. Yes, I recognize that they did something wrong and that they should face some consequences. But, on the other hand, has not God treated us graciously (better than we deserve)? Have we not spawned this whole thing by being poor examples to our children? As God has been gracious to us, so we are gracious to them.
Love does not seek its own.
Selfishness is seeking what is best for myself at the expense of others. God did not seek His own and instead sent His only Son. We only love when we go out of our way to cheerfully serve our young people. We should not think of it as a 'waste of time,' but instead as an opportunity to reflect God's love before our children. We need to regularly think about how to go out of our way to serve our children.
Right now, I am trying to plan a family trip, with my boys, to build a pathway along a river front for a retreat center. It is a place where we can work and play together. It will take 5-7 valuable days away from my work. It will require two 9 hour drives. I have thought about it in detail because I am reminded how much it will 'cost' me. It is okay, though (I convince myself by God's Word), to spend special time with our children.
We need to cheerfully, not begrudgingly, give rides and help out our children. But it will mean even more than this. We will take special time during those drives to learn more about our children. We can actually talk with them. Actually, parents somehow feel talking to their children will require a lot of time, but this is not the case. They have their own friends. In any case, it is our privilege to spend special times with our children. God did put us together with our children for a long time.
The problem is that parents rarely engage their children in a "I care for you conversation." We need to increase these times. We also need to be attentive to our child's needs. When they come home from a meeting and look discouraged, ask them to sit down and tell you about the evening. If we ask as an interrogator, it will probably not produce any good results. But if you ask because you genuinely care for their lives, your care comes through, and they are much more willing to talk, even though you need to coax them a bit.
There are other ways of describing this love, but we are simply trying to think about what love means practically.  Love means to be patient – give a listening ear. Love means to be kind – treat people like kings and queens. Love means not to seek one's own – devote special times to caring for your child. When parents begin to love their children in these ways and more, they sense they are on a divine mission (which they are). They also begin to awake a hope within their children that they might really be loved after all. The children, even after storing up much resentment and being rather private, begin to drop their guard from around their hearts.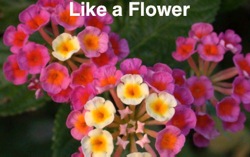 When do flowers open? They open up when the warmth of  the sun touches its petals. And so it is with our children. When God's love streams through our lives, people around us, including our children, begin to slowly open their hearts to receive this love. The sun does not announce it is coming. It just comes and the flowers know it is there by its light. And so, our children will know love is present when they sense the love of God streaming to their lives through us. Notice the touch of love seen in God's people in the following verses.
 And so, as those who have been chosen of God, holy and beloved, put on a heart of compassion, kindness, humility, gentleness and patience; bearing with one another, and forgiving each other, whoever has a complaint against anyone; just as the Lord forgave you, so also should you. And beyond all these things put on love, which is the perfect bond of unity. (Colossians 3:12-14).
Love softens the heart and brings hope. But because of all the built-up resentment and residue from our disappointing example as parents, we need  to be more than just kind. We need to seek forgiveness. Only confession in Christ's Name can dissolve past walls of bitterness.
Next =>
---
Problems (Part 1): Family Problems | Solutions | Problem #1 | Problem #2 | Delinquency

Solutions (Part 2): Barriers | Let's Solve it! | Confession | Steps of Love | New relationship

---