If you have sincerely made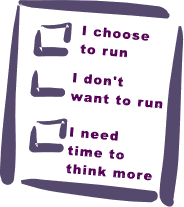 those prayers relevant to you, then you have taken a strong and important decision to once again run in this race for sexual purity. What does it mean if you sign in? Let me suggest this,

"I would like to sign my name to join this race for sexual purity. I fully understand it is only by God's grace I can win."

The only way to make it to the end of this race is through confession. If you haven't been able to pray and fill out that list, please go back and try to think why you did not pray as you did. You can of course continue on with us, but remember you need to come back here to sign in.