The Final Battle between Life and Death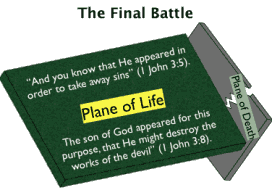 John helps motivate us by not only giving us a clear picture of the Plane of Life and the Plane of Death but on how they interact with each other. There are times when things look mighty bleak.
I hear Christians around me speak in despair how the times are becoming evil. I of course agree with them. But we are only being able to see the judgment upon humanism and its sisters of materialism and secularism. God is showing the judgment upon these idols. Evil in some parts of the world may grow but it is losing ground overall. We know these things by faith in God's Word. Let's look at a couple of these truths behind our thoughts.
And you know that He appeared in order to take away sins (1 John 3:5).

The son of God appeared for this purpose, that He might destroy the works of the devil (1 John 3:8).
Both these verses are speaking of Jesus Christ. The first coming of Christ into the world was a signal of death to the devil's plans. For as much as the evil one thought he had control of the world through sin and deceit, he had lost it when Christ the righteous one came to save us from sin.
God didn't want just to judge sins by eliminating them. He set up a kingdom of light, a people whose heart was righteousness. If God only wanted to eliminate darkness, He certainly could have judged the evil one in the beginning for he sinned from the beginning. Nothing is going to frustrate the Almighty's plan to destroy the works of the evil one. He already sent His only begotten Son into the world. What more confidence could we want? The war is over. The evil one's time is short. It is the last hour.
Be faithful brother and sister. Abide in Christ. Keep your heart fixed on His love and holiness for it is what the world can never take away.
Increase Your Confidence! Abide in Him.
1) Discern if you do anything that the Lord does not want. If so, ask yourself why do you do these things. Confess them and repent. Let the works of the devil be destroyed by your repentance.
2) If you are addicted to some sin. You do not think you can escape from it, you need to face your choices. It is possible that you do not know how God's Word can help you (1 John 2:12-14). We can help you with that. But if you think trying is the same as doing, you are deceived. Cry out from your heart that you want God to break you of your sin. He will save you.
3) Positively, delight in the Lord's love. "Behold what manner of love that the Father has given us that we should be called the children of God!" How absolutely precious. It will never change.
4) Focus your heart on Christ's return and being with Him forever. You are able to better discern matters and therefore purify your heart when you do.