The phrase 'born of Him' means God's nature was infused in us. Verse 3:9 says "born of God" and 'born of Him.' 3:10 has a similar phrase 'not of God.' God now is a part of his life. He is changed. Before he did not have spiritual desires but only earthly ones. Now, however, everything has changed. Do you remember going through a time of repentance and faith? I sure do.
Right after God changed me, I longed to read the Bible. Before this time, I had absolutely no interest in it. It was like night and day. Now it was hard to keep me reading God's Word. I can remember reading God's Word on a nice Saturday afternoon when I could have been doing lots of other things. New desires engender new habits. It is this new desire that is a mark of the new life. We will discuss this more later. At this point, we can see that when you have a desire to do things God's ways, called righteousness, then it is probably because you were born of Him. This is what 1 John 2:29 is saying.
If you know that He is righteous, you know that everyone also who practices righteousness is born of Him. (1 John 2:29)
Here we see that the first point is placed on a map. Birth. The phrase "Born of Him" is a very significant phrase. The phrase reminds of an encounter Jesus had with Nicodemus in John 3 where the phrase 'born again' was born. Today the phrase can mean almost anything. Hopefully we can describe what it means.
1) Usually we would say that we are born of a woman. Here we are born of a 'him.' There is no mistake here in the Greek text. Our search then quickly finds out that it refers to God the Father. It says it more clearly in 3:9 "born of God." So we find that something is being referred to that we don't often see. A person is born of God rather than or in addition to have been born of a woman. There is a special spiritual experience that occurs to some people.
2) "Born." But what in the world does it mean to be born of God? It must be a spiritual experience. If it referred to everyone being created, then it wouldn't be true of just some people. Being born is a process that happens to you. We wouldn't say we are totally inactive but that a process is doing something to us. That process is when we are brought out of a dark world and brought into the light of another world. But as we think of birth a bit more, we see that it has even more to do with the sharing of life and likeness. We can see this in the word 'born' which is similar to the English word 'gene.' The child shares a common life and frame of his parents.
3) 'Born of God.' So what does it mean to be born of God? Somehow a person experiences a process by which he shares a commonality and belonging to God. God is somehow intrinsically part of a person. This person is not God. That is clear. However he now has God in Him. He shares God's heart. Having he same nature, he likes what God likes. He dislikes what God dislikes. In 2:29 we see that John makes the simple argument. We know God is righteous and therefore we know that the seed of righteousness is born in these people. Evidently we are to draw the conclusion that the others who have not been 'born of Him' do not have this righteousness. Only those who share His desires. These simple phrases can have very deep thoughts.
This is then the one point on our life map. It is a significant one. The atheist might ridicule such a thing. Others might dismiss it, but others know exactly what John is talking about. They were going on in their life and then something big hit them. All of a sudden they had a complete turn around in what they knew what they should do, their desire of what they wanted to do and in fact what they did or did not do. Perhaps the biggest evidence of God in this world is that some people are born of God. The claim is rather significant. It is unfortunate that many have made this term 'born-again' only to be a spiritual experience with no ongoing transformation. This is a miscarriage. No real life there.
Application. We need to ask ourselves whether we are still in the course of our natural birth or has something significantly happened to our lives. Sometimes we can't see it until the process of new birth is pass but those on the outside can see something is happening. You interests change. Your desire for God has surprisingly come alive. You are actually humbled about your past life. These are all signs of the new birth. But the finish of the birth is seen in a clear confession of Jesus Christ to forgive on of their sins. Have you such an experience?
It is not the same as baptism. Baptism happens after your new birth. Some have been brought up in a church since early on. You should still look toward a new birth. Otherwise you might just be religious but not really belong to the Lord. I will comment, though, that if parents do not properly train their children how to think about their sins, that the experience might be somewhat covered up. The key is whether there is a confirming new life.
The Plane of Death
We can say that everything started with our physical birth but we know because of Adam's sin, we had a sinful nature along with its cravings. Galatians 5 gives us a great insight to all of that. 5:19 says, "Now the deeds of the flesh are evident, which are immorality, impurity, sensuality, etc."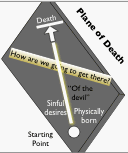 There is a verse that gives us an understanding how the devil is connected to our sinfulness. We cannot blame the devil, as if it was not our own choice. "The one who practices sin is of the devil; for the devil has sinned from the beginning" (3:8). Do you see that key phrase, "of the devil?" John repeats it even clearer in 3:10, "By this the children of God and the children of the devil are obvious: anyone who does not practice righteousness is not of God, nor the one who does not love his brother" (1 John 3:10).
Man got sucked into one of the devil's plans. And now every man is just naturally born into it. Our bodies are not inherently evil but because of our A desires, the body does very sinful things. From the beginning of the earth Satan has been strategizing how to sabotage God's plan. He is the ultimate terrorist, turning good to evil and light to darkness. He is behind the antichrists that come about.
Although this passage does not speak of the end in very clear language, we know from other verses that both spiritual death and physical death are a result of sin. 'For as through the one man's disobedience the man were made sinners' (Romans 5:19). And in 5:21, "Sin reigned in death." We see this practically worked out in the case of Cain and Abel. Abel sought the ways of God but Cain didn't like them. Without a society around to hold back evil, he just did what he wanted. He desired to eliminate the presence of goodness seen in Abel's life. When we think of hatred and bitterness, it is a horrible thing. Without restraints around us, then our hatred would indeed cause much more horrible death.