---
What things are most important to you?
From the very beginning of Job we are called to think about what a great person is like. It might not be a topic that we openly discuss with Pleasure? Relationships? Entertainment? Accomplishment? Sex?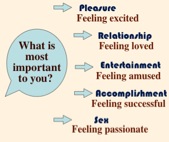 These are just a few of the things that people feel are important to their lives. When something becomes very important to them, they make it a priority and shape their lives around it. We cannot understand people or ourselves until we begin to understand what drives them and guides them in the decisions that they make in life. One man who worked a minimum wage job owed people money and kept borrowing from others, but thought his monthly hundred plus dollar cable television bill important enough to keep it. Why? What drove him to make such decisions? How could he be helped? We might not have this problem, but one will be most surprised to see that all of life runs a similar pattern.

Those who seek pleasure have a belief that feeling excited is very important to life. Those that focus on relationships believe that feeling loved or belonging is essential to a happy life. Those who favor entertainment like the sense of amusement it gives them. Those who like accomplishing things like the pleasure of feeling successful. Those who focus on sex like the erotic feelings involved.

We can understand a lot about our lives if we simply look at those things that we spend our 'free' money and time on. These are the things that people chase after–their pursuits in life. But we must look beyond them. They provide good clues as to what is important, but they are not very helpful in solving problems or improving their lives. We need to ask a further question. Why are those things that we chase after important.

This is the question that begs to be asked when we begin to look into this passage of Ecclesiastes 2. What is Solomon really after, anyway? His open approach helps us all get a better picture of ourselves. After all, many of us never dare be so honest about our lives, especially out in public.

Let's first read the passage and then return to this question. The question of why we do things is important for without understanding its answer we cannot better our lives. Many a Christian struggle with their Christian lives because they do not understand their deeper desires within them. Let's look at today's text.

"I said to myself, "Come now, I will test you with pleasure. So enjoy yourself." And behold, it too was futility. I said of laughter, "It is madness," and of pleasure, "What does it accomplish?" I explored with my mind how to stimulate my body with wine while my mind was guiding me wisely, and how to take hold of folly, until I could see what good there is for the sons of men to do under heaven the few years of their lives. I enlarged my works: I built houses for myself, I planted vineyards for myself; I made gardens and parks for myself, and I planted in them all kinds of fruit trees; I made ponds of water for myself from which to irrigate a forest of growing trees. I bought male and female slaves, and I had homeborn slaves.

Also I possessed flocks and herds larger than all who preceded me in Jerusalem. Also, I collected for myself silver and gold, and the treasure of kings and provinces. I provided for myself male and female singers and the pleasures of men--many concubines. Then I became great and increased more than all who preceded me in Jerusalem. My wisdom also stood by me. And all that my eyes desired I did not refuse them. I did not withhold my heart from any pleasure, for my heart was pleased because of all my labor and this was my reward for all my labor. Thus I considered all my activities which my hands had done and the labor which I had exerted, and behold all was vanity and striving after wind and there was no profit under the sun" (Ecclesiastes 2:1-11).

Why is it that when looking at this passage we are forced to look at why we do things? Allow me to reshape this text a bit and perhaps we can see this more easily.

Notice how King Solomon kept going from thing to thing. He doesn't have to say anything about it. Just by going from one to another, it shows there is some problem about his life. In many cases, we are not thinking about why we do things but only on what we would like to do. There are things– passion, purpose or feelings, deep in our hearts that influence our decisions. Sometimes we are listening to the voices of others. At other times we are reacting to some negative or positive event that happened when we were small.

When one is young and hopeful, he rarely pauses enough in his life to reflect on why he does things. We can see that Solomon has already been through so many things, that he has aged, and looking back. Let's look more closely now at what Solomon says he was pursuing.

Amusement (2:2)

Stimulation (2:3)

Projects (2:4-6)

Possessions (2:7)

Collections (2:8a)

Entertainment (2:8b)

Sexual pleasures (2:8c)

What is your conclusion after looking at this list? He seemed to have everything that one could want. He had all the opportunity, all the wealth and time to pursue what he wanted. And yet, because the list kept going on, there is a sense that none of these things could satisfy. He pursued them. It is only after pursuing them that he discovered that they brought none of the real satisfaction of life that he pursued.

I wonder where you are at in life. Let's take a look next at the Cycle of Satisfaction.