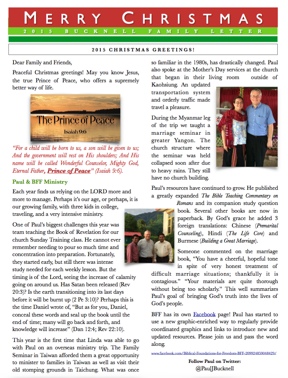 Merry Christmas to you all!
Each year finds us relying on the LORD more and more to manage. Perhaps it's our age, or perhaps, it is our growing family, with three kids in college, traveling, and a very intensive ministry.
Click here or on the Bucknell family letter (on right) to catch up on the many things that can happen in a year including the healing of Linda's heart and her trip to Burma and Taiwan with Paul!
Paul and Linda Bucknell

For more up-to-date news join us on Facebook: Paul or Linda.
Sign up for our family newsletter below!
Phone: (412) 398-4559 (m/text)
3276 Bainton St.
Pittsburgh, PA 15212 USA
_________________________________________
Biblical Foundations for Freedom is the place to be!
www.foundationsforfreedom.net
Do you know BFF has a store with lots of eBooks and much more!
Be part of our prayer support team! (PrayBFF) [Or update your address!]
Join BFF on Facebook! We appreciate your helpful comments!
In order to update your mailing list, please click here to go to the web page.