---
This is the introduction to a five part series on Joshua 21. The greatest treasures are the ones that we wait for rather than strive hard to get now.
---
We sometimes hear of different retirement package deals. Maybe you haven't heard about them. Social Security, the American government's bankrupt retirement plan, for example, offers the opportunity to start taking the retirement monthly stipend less earlier. If one waits five or ten years, then one could get a substantially higher portion each month. Which would you choose? Do you wait longer and get a higher monthly income or start earlier and receive a monthly stipend that is much lower? How do you decide? I suppose there are two ways to make a decision. It depends on how needy one is at the moment and also on how long one will receive the monthly stipends. The key is that we do not know how long we will live.
Joshua 21:1-7
A. A Special Calling
Then the heads of households of the Levites approached Eleazar the priest and Joshua the son of Nun and the heads of households of the tribes of the sons of Israel. And they spoke to them at Shiloh in the land of Canaan, saying, "The LORD commanded through Moses to give us cities to live in, with their pasture lands for our cattle." So the sons of Israel gave the Levites from their inheritance these cities with their pasture lands, according to the command of the LORD. Then the lot came out for the families of the Kohathites. And the sons of Aaron the priest, who were of the Levites, received thirteen cities by lot from the tribe of Judah and from the tribe of the Simeonites and from the tribe of Benjamin. And the rest of the sons of Kohath received ten cities by lot from the families of the tribe of Ephraim and from the tribe of Dan and from the half-tribe of Manasseh.  (Joshua 21:1-5,).
Let us think about this from a different perspective. Suppose, you had a special offer. It was only given to certain people. You would receive less for a long

time, but in the end you would receive much more. During the time that you would receive less, you perhaps would be looked down on. It would look like God was not blessing you or even that He cared for you. But in reality, in the end you would receive an amount incomparable to the first. This is something that God regularly does. There are two levels this is done. We will expand them later but give you a brief introduction now.
(Option #1) Receive the world's riches but end up with nothing in the end for eternity. This describes the non-Christian pursuing all he can get in this world but ignores God's ways and words and in the end perishes.
(Option #2) Receive less now, but in the future receive incomparable riches. This refers to the Christian who pursues the kingdom of God now even though he might be persecuted or have less than others. His incalculable riche are stored up in the new world that is to come.
Which fits you? Are you a "give it to me now!" person, or do you have a greater and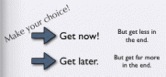 longer perspective in mind. We find that Satan deceives and tempts us with these quick 'Start receiving now!' offers. But he never shows you the full scope of things. Jesus cut away all the superficial glow and stated,
"For whoever wishes to save his life shall lose it; but whoever loses his life for My sake and the gospel's shall save it. "For what does it profit a man to gain the whole world, and forfeit his soul? For what shall a man give in exchange for his soul? (Mark 8:35-37).
What do you live for? Why? What do you believe about God's special deal? Have you heard of it before?
We will now turn and take a look a look at a passage that stimulates such questions. Pictures of eternal truths are often captured in real-to-life examples from the Old Testament scriptures. If we have been diligent in observing the process of distributing the land to the Israelites in the last chapters of Joshua, we would be aware that something irregular was going on. Allow me to quote a few passages. Perhaps, then, you will understand what I mean.
"For Moses had given the inheritance of the two tribes and the half-tribe beyond the Jordan; but he
did not give an inheritanc
e to the Levites among them" (Joshua 14:3, NASB).
"For the sons of Joseph were two tribes, Manasseh and Ephraim, and they
did not give a portion to the Levite
s in the land, except cities to live in, with their pasture lands for their livestock and for their property" (Joshua 14:4, NASB).
I believe you can see how the Levites were purposely excluded from a portion of the land. All the other tribes got their portion. They had a lot of freedom to do what they wanted within each of their tribal borders. Of course, they also had their responsibilities. Most people would say give us the land or money, we will be responsible. But it is clear that the Levites were not being treated the same. Who made this decision? It was clearly God's decision. We will take a look at why He did this in a moment. For now we need to know that though Levi was one of Jacob's (Israel) sons, he did not get a regular portion of land as an inheritance. One could, perhaps, even further question that they, as God's priests, should get a better portion. Let's look more at the text at this point and then discuss why these things were so and how they apply to the Christian life.
Next > A Special Calling (Joshua 21:1-7)