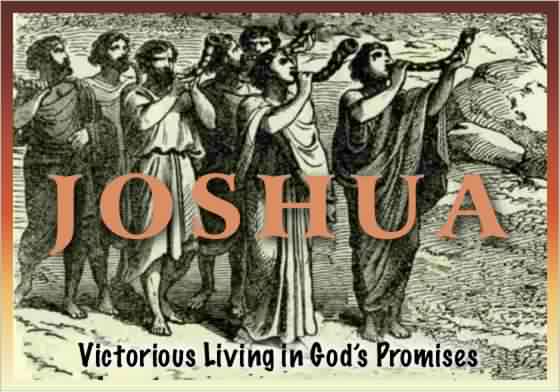 Joshua 23:1-11
Paul J. Bucknell
This is part 1/5 which introduces the main concept of 'clinging' in Joshua 23. There are a Bible study questions at the end.
---
Actually, when we look at verses 8 and 12 they outline before us two things we can cling to: the Lord or the world.  There is not third option.  In fact, as much as we might want to think of ourselves as strong and free from people, you instead have to cling to the world and all it offers.
A. Clinging To The Lord (23:1-11)
Clinging to the Lord does not come naturally to those living by the flesh.  The only thing that helps is strict discipline, but with the slightest opportunity to go astray, they will leave.  The Lord has in a great way hedged His people in.  Tremendous miracles not only gave them good reason to follow the Lord but also disciplined them in extreme ways.  The contest isn't fair.  Joshua knew the real test was ahead of them.  He begins his powerful talk.
1. Past reasons (3-5).    We have every reason to cling to the Lord
The Lord has been doing the fighting for them!  The Lord's promise and task.  He has done so much already, but there still is so much more to be done.  All the nations must be rooted out.  
2. Present reasons (6-7).     
    Obedience brings blessings.  
We need to hold to the Lord's way to stay clinging.  We must know that His Word brings hope and light as well as blessing.  Devotions, being with God's people , preaching, and Bible studies are all important.  As we listen to God, we will not listen to the world.
Il.
Testimony of difference of regularly studying God's Word.
    Disobedience brings curse.    
If we leave the Lord, we will cling to others.
Disobedience is not neutral; it brings idolatry and associated sins.  If we do not serve the Lord, we must serve another.  We are not free creatures.
3. Future reasons (8-11).    Real blessings will come only when we cling to the Lord
We will either cling to what reason and time has proved to be right, that the Lord has been so good to us and that we will continue to follow Him, or we will turn aside to other things.
Clinging to the Lord is the same as loving the Lord.  Clinging shows we put our trust in Him to take care of us.  If you were next to a sizable vine, would you cling to it?  Probably not if you were standing on solid ground, but if all of a sudden you found yourself
falling down a cliff, you would cling
with all you have.  You would stick and no one would need to tell you to keep sticking.  
The problem that occurs is when we think we have found solid footing upon which to stand and we set our feet down.  Once we do this, we just stop clinging as much as before.  Nothing happens; all seems okay.  Well, we let go again.  But this is where we will see who lives by faith.  For sometimes it is not so evident that the world is passing away.  It looks fun.  But those with faith from above can see God's judgment upon the world.  He knows he cannot rest his feet upon that ground for a moment.  He must cling.  We must cling to our Savior if we want to be saved.  You will have many opportunities to compromise, but they will all drag you down.