Some Personal Sharing
I have always found it helpful when others have shared about how God has worked in their lives. Perhaps, I can share a little about how God has worked in my life. God does not often do work in the same way, but one can always find common elements as we have in our above discussion.  When I think about my own life, three different stages of devotion come to my mind. They might seem the same at first, but they really are different.
#1

Love for God's Word
I am always amazed at what instant changes came over my life when I first came to know the Lord. One of the most obvious changes was my love for God's Word. Before that time I had absolutely no interest in the Bible except to pass time during a boring worship service. But when God's life came into me, I had an instant and strong desire to read God's Word.
"In the exercise of His will He brought us forth by the word of truth, so that we might be, as it were, the first fruits among His creatures" (James 1:18).
It was by God's Word that I received my new life and through His Word my spiritual life found strength. I still remember as a young teen on a bright, fall, Saturday afternoon lying on my bed. Usually, I would have been outside in the yard or down by the beach. But I can still see myself with God's Word reading away while the sun shone in. This thirst for God's Word drove me again and again to read and know more of it. I am sure the same is true with you. The new life had a new thirst that God's Word could satisfy.
A question, "How much do I want to know Him?" might linger about in my mind as I make a decision to read His Word. If I really wanted to know Him, then I would read more of His Word.
#2

Love to study God's Word
In my early university days, I found a Christian student group on campus. At that time InterVarsity Christian Fellowship (IVCF) had a couple of weekend camps where they would show me the ins and outs of inductive Bible study. It was fantastic. From that time on, I would regularly apply the skills I learned to help me study God's Word. What an impact these daily studies have had on my life.
Already in my first months of studying through some minor epistles like Colossians and Philippians, God started to speak to me. I still have my notes from my these studies back thirty years earlier. Because of my studies and my desire to study God's Word, I realize that I had to carve out some special time if I wanted to pursue this kind of study. The question to me then was, "Will I make special time for Him?" I remember making a decision that I would study God's Word when I was most alert. I chose midmorning. I had a lot of classwork. I was busy. I was telling the Lord, however, that He meant more than all to me. I use my best time to study His Word.
#3

Love God through His Word
This last stage, at least up until now, was also hard to step into. It was a new mindset that required more discipline. Let me share how God did this. I was thinking about Joshua 1:8 where it said that in order to be successful I needed to meditate on God's Word. I regularly met the Lord in the morning and delighted in using God's Word through the day. He kept urging me in my spirit, however, to set extra time apart to meditate.
I argued with the Lord. "You know how busy I am. I don't watch television. I don't play sports. I am busy early to late at night in the ministry. I don't have any free time!" Each afternoon, I would come from my study and have a couple of cups of tea and briefly hear an interesting  news radio broadcast. When I sat down, the Lord started saying, "Well, what about this time to meditate?"
I struggled. It was my only input about what was happening in the world. It was my only personal break in the day. Several questions came from the Spirit. "Do you believe what I have to tell you is more important than what you hear from the news broadcaster?" "Will you give up time doing other things that you like so that I will have to meet with you?"
Wow. The Lord was just breaking down all my defenses. What could I say to such questions but 'yes'? In the end, I decided to turn off the radio and meditate on God's Word. I realized only later that He had much more to teach me. He was going to teach me how to meditate on His Word.
I decided to enjoy my time rather than making it something legalistic and forced (even though it was rather forced). I thought about what it was like to be a disciple of Jesus. Jesus was the great disciple trainer. He was the Master. So I figured that I would pretend to be a disciple right along with the other ones and like the others pay attention to what the Lord said and did. I would try to see what the disciples actually saw and heard from the scriptures. This led me into one of the most powerful learning times in my life. As I started to open the Gospels, God started training me. Please remember, I have by that time been daily studying God's Word for about three decades. And yet, I had so much to learn. A lot of the training was in an area that I never heard associated with Bible study, that is, faith.
I had read the Gospels endless times. But now, I was to meditate on them. Could I really learn more? Well, I trusted that more could be learned because He said that meditation brings further blessing. The first question, then, was, "Will I believe Him to be able to speak to me through any passage?" It doesn't matter how many times I had read it before. It doesn't matter on whether it is long or short, interesting or not. I believed He could make any of His Word alive to me. This would be tested.
  With a short Gospel passage in front of me, I would read it and reread it. Sometimes, of course, a particular couple of words or sentence would pop out and intrigue my heart. At other times, however, nothing happened. What was I going to do? Would I give up and be satisfied that I had read His Word? I knew that this was no good. That was the surest road to a deadbeat Bible reading or meditation time.
I made a decision. I would wait for Him to speak to me. It might take fifteen, thirty minutes or longer, but if His Word was important, then the length of time to gain hold of His message was insignificant. I did not have forever. The Lord knew that. But I would soon see that the blessings that would come out of these studies would be so powerful that my whole afternoon and evening were at times affected. Here are the questions that I regularly would process through my mind.
Will I always want Him to speak to me?
Will I trust Him to be able to make any of His words alive?
Will I, without exception, obey Him if He reveals something that I should do?
If I held on to His Word, He would soon begin to reveal some powerful truth to my soul. Faith was crucial to my confidence and enduring power. This faith was built on certain truths revealed in God's Word about His Word. Soon I would see the two-edged sword swinging itself through my life. I was astonished. I was shaken.
My Master is the expert trainer. He knows the areas in my life that needed training. He was waiting for an opportunity.  These meditation times would become those key times. Each meditation time became a significant learning event in my life. Often deep remorse and repentance would come over my heart. Not a few times I deeply wept for the Lord touched my heart's deep places. Each time became a test for afterwards, He would always put a test out to see if I really learned His lesson. I did not always pass.

This became a whole series called, "
Walking with Jesus
."
Each time with the Lord He showed me a weakness through His Word, helped me to see how I could grow and tested me to put it in action. He regularly tested me as to whether I believed He could speak through any passage. These lessons do not stop. They continue down into the present times. There are always areas to grow in. I have been so humbled as to seeing so many personal weaknesses, that I can more easily remain a disciple, a humble and quicker learner. God has only just started His work in me!

The Last Stage
The last stage of growth will come when Christ comes.
"See how great a love the Father has bestowed upon us, that we should be called children of God; and
such
we are. For this reason the world does not know us, because it did not know Him. Beloved, now we are children of God, and it has not appeared as yet what we shall be. We know that, when He appears, we shall be like Him, because we shall see Him just as He is." 1 John 3:1, 2.
When we see Him, we will be like Him. It is there, we will finally be able to put off this old man for good as we see His holiness. I think that eternity will be a wonderful learning time of His glorious works, but up to then, I definitely set myself out to be a key learner and disciple of Christ. Next =>
BFF Homepage
|
Top
|
Back
|
Scripture Index
|
Topical Index
|
ADT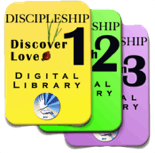 Click Library
to get articles, handouts and available slides.
Biblical Foundations for Freedom


By Paul J. Bucknell


NASB used