Pursuing Our God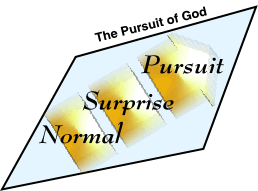 Paul J. Bucknell
Note: 'Passing on the Torch' helps us think about how these things learned in this series relate to our lives by providing a number of activities. This is the sixth of seven sections that compose one longer article on Pursuing Our God. This article discusses how a person can grow in their relationship with the Lord through special times with Him. This is part of a larger ADT training series, Renewing Our Lives and Minstries Through God's Word, –Renewing your spiritual life and ministries through improving the quality of your time in God's Word. Click to see the full 3-day schedule of this Renewal ADT series.)

God wants to reveal more and more of His glory to us. Ministry is important but not most important. The focus must be on building up a very intimate relationship with God. While we will have various special and regular experiences with the Lord as part of life's work and service, God desires to be pursued and allow Himself be found.
We have looked at where we have been. But perhaps a more important question is where do we need to go? If we would make ourselves available for the Lord's use, our lifes can be like a spring that brings His blessing to many.

Meet God
Never live only on what God has said but on what He is now saying to you. Expose your self to the Lord through His Word. Keep close to Him. Obey Him.

Pray for others
Pray that God would work through the devotional times of those around you. Pray expectantly for revival.

Share your experiences with God
As appropriate, naturally share how God has done this or that in your lives because you were attentive to Him. Of course, you can also share how at times you were not attentive and suffered consequences.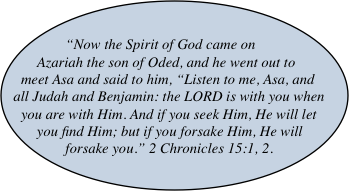 Tell them how God used His Word
If they are interested, tell them how the reading of God's Word was part of that special encounter with God.

Be ready
Be ready to lead another brother or sister on how to cultivate better devotional times.

Worship the Lord
As you travel or rest, recall the wonderful ways God has spoken to you through His Word. Over time, certain events will be more meaningful and continue to be used to guide and shape your lives.

Foster revival in others
Excite others on how God wants to speak to their lives through the scriptures. God builds up their faith. The following exercises and discussion questions can be used to engender helpful conversation.
Next =>
BFF Homepage
|
Top
|
Back
|
Scripture Index
|
Topical Index
|
ADT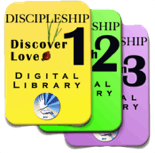 Click Library
to get articles, handouts and available slides.
Biblical Foundations for Freedom


By Paul J. Bucknell


NASB used