Paul gives us one good reason that we are to speak honestly with each other. The reason is a good one. He did not have to give us a reason. God's command is sufficient. He could have given more reasons, but he left one reason to encourage those who are on the borderline to find the power of truth in their lives.

The reasons we lie

Before we go on and discuss this, let us think why again we lie to each other.

Sometimes we lie because we are trying not to hurt someone. "Oh, it is okay to say that you have played the piano 5 years when it only has been 2." After all, you want them to get into that college or get that scholarship. You don't want them to get rejected. (Of course, it wouldn't hurt your budget either).

At other times, we lie to want to use a person. By that, I mean we want to twist the facts so that we can get them to do or not to do something that we want. Those who spread rumors are like this. They are trying to hurt someone else. They spread all sorts of gossip around so that others hurt their real enemy. They say false things in juicy wrappers. "Oh, did you hear …?"

People also lie to hurt someone. These people are the recipients of their hatred. They lead the sheep into the lion's paws so to speak. They often pretend to be good friends when they really are angry at you and trying to set you up. "He who hates disguises it with his lips, But he lays up deceit in his heart." (Proverbs 26:24).

Lastly, people deceive a person for their own gain. It is interesting how a boyfriend will 'butter up' a girl just to use her. How I wish you sisters would be wise to this. A guy can be so polite to you not because you are special in the way you hope he thinks of you, but he wants to touch you. Some guys will marry you for this purpose. Be wise, sisters. Don't cry if he chases another woman and leaves you in the dust. If that is the way he is, you don't want him to stay with you. Look at how he relates to others and you will learn a lot.

Of course, I am not only speaking of men here. All sorts of people will pretend to be nice and professional, but they don't care about you but only your money. The sooner you are out the better. "Beware of the false prophets, who come to you in sheep's clothing, but inwardly are ravenous wolves." (Matthew 7:15). This is true of counselors, teachers who seek control of your mind for their fame, and strangers who are looking for a way to steal something from you.

For we belong to each other

This is what Paul says, we are members of each other. Paul here is building upon other previously taught truths. In chapter 2 Paul speaks in a prolonged way on how we as God's people are fellow-citizens, God's household, a whole building and a holy temple, a dwelling of God in the Spirit (Ephesians 2:19-22). What does this mean but that we are one. We need each other. We all are important.

Whether we think lying helps people or not, God Almighty says it is something He hates.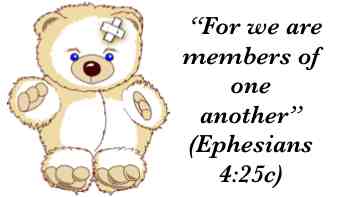 Paul's point, whether you understand it or not, is that lying always brings pain into the world. Would you hurt your left arm? Would you stab your right? Why not? Because it would hurt. Lies are like this. If we have a healthy concept of the church, then we would rather suffer than cause pain to one another.

If I have an infection in one ear, would I want to spread it to my eye? No. That will hurt even more! The same is true. When the Spirit of God is alive and moving in our hearts, we will be thinking of the welfare of the whole and not just our own. Instead we think of doing good to each other. We actually make sacrifices to help another part. If one leg is sore, we put more weight on the other until it is better.

When we know that lying is wrong, then it is obvious we would never lie to a member of God's family. We are concerned for them and know that no lie would be helpful to them.

Would you like others to lie to you?

A newspaper article wrote about this one guy selling steamed dumplings (baodz). It was interesting to find that he actually got the insides of the steamed dumplings from cardboard in the street. He used a 6-4 proportion with 60% made of cardboard and 40% fatty meat. He would pick up used pieces of cardboard, have them broken down and then reconsolidated and stuck together with some chemicals. He said most people didn't know. He wouldn't eat them though but he saved $132 a day. That is pretty good. That is the way it is with lies. No one likes lies so why would we think there are situations where we should lie to another.

The authorities put him out of business. Shouldn't we put Satan out of business for giving us something less than truth?

Conclusion

Therefore, laying aside falsehood, SPEAK TRUTH, EACH ONE of you, WITH HIS NEIGHBOR, for we are members of one another (Ephesians 4:25).

Man often thinks his ways are good. He doesn't realize that there is a much better way than deceiving people to get your own way. This is God's way. Speaking the truth is God's way. Speaking lies and deceit is Satan's way. Which are you going to choose? Stan's way not only brings pain to others but it will also do it to yourself. All of Satan's operations are masked in deceit. God, however, speaks clearly of His love to those who seek Him. He promises to bless those who live uprightly.

The wicked earns deceptive wages, But he who sows righteousness gets a true reward. He who is steadfast in righteousness will attain to life, And he who pursues evil will bring about his own death. The perverse in heart are an abomination to the LORD, But the blameless in their walk are His delight. Assuredly, the evil man will not go unpunished, But the descendants of the righteous will be delivered (Proverbs 11:18-21).

You can only be wicked or righteous. Do choose to follow the Lord and be honest. By putting away falsehood, one can step into the light.