Use these arrows for speedy movement!
God has designed us not to have worries.
We desire through this seminar to enable you to actually overcome every kind of anxiety. God wants us to have so much more than the absence of worries. He wants to give His special peace to you and I!
We have three goals for each of you through each session of this seminar:
Without actually applying these wonderful truths to your lives, you will not see much difference. But as you do, you will see God's tremendous power through eliminating your worries and bringing peace. When He does, will you do one thing for me? Please share with a friend how God has helped you. Tell him, "God has helped me so much this week." When he asks, "How did He do that?" Just share with him one clear way God took your anxiety away!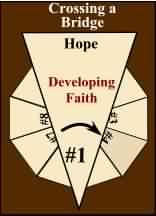 My goal for this session is to instill in you a greater hope in God. This hope will
increase your faith in His care for you and further enable you to trust Him to bring you from your worries to His peace. This is the journey we will speak more of later.
It is dangerous to teach on worry! Everything that might go wrong will try to go wrong. I found that out when preparing! But the principles of overcoming anxiety work even in such cases. I have experienced it.
We simple do not need to worry about things that will or do happen that frustrate our plans. God has given us grace to trust Him through every frustrating circumstance. That is very good news.
Now let's turn to further developing our hope.
Though out this session #1 we will share how God's care for you and me can make a great difference in our lives.