When God first created man and woman, he also established marriage and the family relationship on which every society is built through the ages. Genesis 2:18-25 provides the blueprint for a Biblical marriage relationship. It gives us clear guidelines to have fulfilling marriage relationships as God originally intended.
Objectives
• Appreciate the distinct roles and responsibilities of man and woman in a family
• Understand the true intimacy we should have with our spouses
• Recognize the uniqueness of a marriage relationship
• Understand the proper relationship to our parents after marriage

The first gift God gave man was the relationship with Himself. He created man with the ability and need to love someone. God is to be that first love and to fulfill the need.
The second gift to man was the creation of a woman. This was very different from the first gift, but just as precious for him. Why did God give man this second gift? How was it special?
This passage shows us the original intention and design of a marriage relationship before the fall in chapter 3.
Complementary in Role
• In Genesis 1 and the first part of 2, God had said: "It is good." This is the first time God said: "It is not good for the man to be alone."
• God created woman to be a suitable helper to man.
- This shows the insufficiency of man and the need for a partner.
• Genesis 1:27 tell us: "So God created man in his own image, in the image of God he created him; male and female he created them."
- They were both created with equal status and both in God's image.-
- They were made distinct: Male and female.

• Man and woman are created for different roles that are complimentary.

•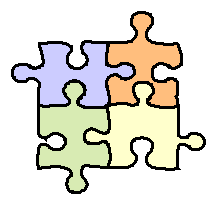 God created man first and to be a leader in the marriage and family relationship.

• God declared that it is not good for man to be alone (v. 18)
> Naming of all the animals (v. 19-20) > Creation of woman (v. 21-22)
- The goal of woman is to help man accomplish his God given tasks.
- Misguided excuse for wife abuse: "Since I am called to be the leader and she is called to be the helper, therefore she is to be my slave to do as I please."
Question 1: How does this passage address the issue of career wives and mothers?
Question 2: How should the husband exercise his leadership in the family?
Question 3: How does the wife compliment and help the husband in his responsibilities?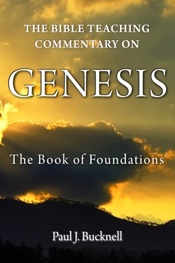 Unity in Diversity

Table excerpted from "Guys Are From Mars, Girls Are From Venus" by Ray and Sue Bohlin. It should be noted that this is a secular chart as in contrast to a Christian chart.
Imagine Adam waking up and found another man next to him. Their lives would be very boring.-
---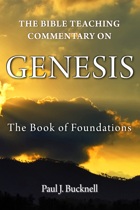 This is just a sample of the great amount of materials found in the book: Genesis: The Book of Foundations. Only some of our Genesis materials have been put on the web.
Or better yet, for a little bit more get the Old Testament Library which has this book along with powerpoints, videos and hundreds of other articles, all presented with understanding and applying God's Word to our lives. Great deal!
Unity in Intimacy

Will you take this woman to be your lawful wedded wife, to live together according to God's commandments? Will you assume all of the responsibilities of headship over your home? Will you love her, respect her, provide for her, comfort her, honor and cherish her, in sickness and in health, in prosperity and in adversity, and forsaking all other keep yourself for her alone so long as you both shall live?
• "Bone of my bones and flesh of my flesh."
• "Cleave to his wife" - to adhere firmly and closely or loyally and unwaveringly.-
o Physical level – Consummation of marriage-
o Soul to soul – Best friends with compatible interests and hobbies-
o Spirit to spirit - Be not unequal yoking between believers and unbelievers
Do not be yoked together with unbelievers. For what do righteousness and wickedness have in common? Or what fellowship can light have with darkness? (2 Corinthians 6:14)
• Ephesians 5:28 says:
So husbands ought also to love their own wives as their own bodies. He who loves his own wife loves himself.
• Exclusivity in marriage relationship
• Permanence of the marriage relationship - "They will become one flesh."
Unity in Independence
• Man move from under parents' authority to under God directly – His loyalty will be to his wife first.
• Woman move from under parents' authority to under husband's leadership – Her loyalty will be to her husband first.
• Chain of command under parents changes to chain of counsel.
• Marriage intimacy is a reflection of our relationship with Christ
o Ephesians 5:22-28
Wives, be subject to your own husbands, as to the Lord. For the husband is the head of the wife, as Christ also is the head of the church, He Himself being the Savior of the body. But as the church is subject to Christ, so also the wives ought to be to their husbands in everything. Husbands, love your wives, just as Christ also loved the church and gave Himself up for her; that He might sanctify her, having cleansed her by the washing of water with the word, that He might present to Himself the church in all her glory, having no spot or wrinkle or any such thing; but that she should be holy and blameless. So husbands ought also to love their own wives as their own bodies. He who loves his own wife loves himself; (Ephesians 5:22-28, NASB).

o We are to be 'cleaved' and united to Christ as our groom.