A.) Place Detour (Genesis 12:10-20; 20)
Going where you shouldn't!
Is it God's will to go to such and such a. place? This is an often asked question. We need to look at two basic questions to help us better understand this question.

1) Where did the Lord originally want you to go and why?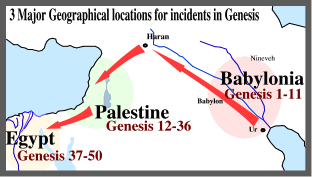 The LORD told Abram to go to the land of Canaan, or Palestine, the land Yahweh pointed out to him in two stages. Genesis 12:1 kept the place as a mystery. Later in 12:7, we see the LORD clearly affirming His purpose,
"And the LORD appeared to Abram and said, ?To your descendants I will give this land."
We are right to applaud Abram on actually getting this far. This was sheer faith that he acted upon. This is the scene where God's promises would later be fulfilled in his son's life and ours (through Jesus)!
God spoke clearly to His purposes. This was to be a long term place for Abraham to live. So God did not at first tell Abram everything. Maybe he wouldn't have gone had God told him! Whatever the case, we do find that this step by step unfolding of God's plan is quite common in a Christian's life.
God doesn't often (if ever) reveal to us His whole plan for our lives all at once, at least not clearly. As we take one step in obedience, in His time He shows us more. He is never late in revealing what we need to know. Why? He wants us to depend upon Him. He wants us to know Him more. We should just accept the fact that a good part of our Christian lives will not be comfortable. In this way, we will be more ready to go on with our our trust in God.
---
This is just a sample of the great amount of materials found in the book: Genesis: The Book of Foundations. Only some of our Genesis materials have been put on the web.

Or better yet, for a little bit more get the Old Testament Library which has this book along with powerpoints, videos and hundreds of other articles, all presented with understanding and applying God's Word to our lives. Great deal!
2) Has He asked you to go elsewhere?
The reason we ask 'Why?' on the first question is to see if God would put a time limit or special purpose on sending someone to a certain place. Often, when this is done, one returns to where he was before. God often sends a person to a place just for a short time. Many times they go somewhere to study or help someone.
Two times Abraham left the place without clear direction from the Lord. Each time we see different motivations shaping him.
a) Abram went down to Egypt (Genesis 12:10).
Abram went to Egypt because of famine. Of course Egypt promised better things to him. There could be some desire for more than what God has given to him. Contentment is importance in following God.
He should have trusted in the Lord. Because he left the place God wanted him to reside, he was able to be tempted in a special way. It is remarkable that this happens again in Genesis 20.
b) Abraham settled between Kadesh and Shur; then he lived in Gerar (Genesis 20:1).
Perhaps the incident with Lot and Sodom created resentment in Abraham. This incident immediately follows chapters 18 and 19 where God dealt severely with Sodom and Gomorrah and of course Lot's family.
Notice the step by step procedure. Abraham drifted down and out of Canaan.And there in the pagan city of Gerar, Abraham put his life under the control of a pagan king rather than out in the countryside before God. Abraham committed the same sin of deceiving others about his wife for fear of his own life. He gave his wife to be part of another man's collection of women just so he could be safe! We should see how immoral this is.
The Story of Grace Continued
Despite Abram's moral failures, God intervened and kept Sarah pure. This was important for the promised child. So despite Abram's failure, God kept her pure and still blessed Abram.
Abraham's willingness to shabbily treat his wife would cause marital problems and influence the attitudes and treatment of his sons to their wives.
Was Sarah obligated to obey Abraham in these situations? From 1 Peter 3:1-6, we see that she was commended for her purity of faith. "For in this way in former times the holy women also, who hoped in God, used to adorn themselves, being submissive to their own husbands. Thus Sarah obeyed Abraham, calling him lord, and you have become her children if you do what is right without being frightened by any fear" (1 Peter 3:5, 6). We have to assume that she trusted God for what would happen. We can safely assume she prayed and God delivered her out of her husband's wrong decision and immoral situation. We also must assume that if necessary she would not have willingly allowed a pagan king to touch her body.
Reflections
Note the pattern below. Peace comes from obedience. Insecurity comes from disobedience.