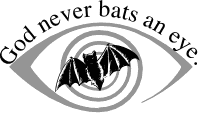 Get Away with Divorce?
Divorce among Christians is tragic. Some have suggested that they even get away with marrying the person they wanted by divorcing.
The Lord, however, carefully traces the lustful eye, the bitter words and selfish deeds. Divorce only reveals the couples frustration, loneliness, bitterness and hatred. People never escape divorce. Divorces only perpetuates their pain.
Definitely Not!
God catches all of our moral weaknesses. Not one innocently passes by. Even if we are God's people, God judges our sins.Unfortunately some believers have reasoned that since they are a believer and are forgiven that the Lord doesn't judge their sins. Because they are ignorant of how thoroughly God deals with His people's sins, they will make costly mistakes in their Christian walk.
Perhaps you have met such a Christian or you yourself even have such false notions. The way God deals with His people and those who are not His people are quite different.
God, Judgment and the Unbeliever
Unbelievers will perish in their sin. They will be fully judged for all their wrong doings. Esau serves as a case example for this (Genesis 36).
God, Judgment and the Believer
Believers, however, are a different case. Yahweh deals with them quite differently. God "begins with us first." Judgment begins with the household of God (cf. 1 Peter 4:17). Jacob serves as a clear example of this (Genesis 37 starts his genealogy).
"For it is time for judgment to begin with the household of God; and if it begins with us first, what will be the outcome for those who do not obey the gospel of God?" (1 Peter 4:17)
A Christian is not judged in regards to salvation, or whether he is accepted by God as His child. Justification by faith teaches us His children are saved by faith in Christ. Every believer is on the path of sanctification.

God says that He scourges every child of His. This is a mark of belonging that we might be holy like our Father (cf. Hebrews 12:6).
In Deuteronomy 28 we see a whole list of things that God will bring upon His people if they don't do all that He says. God cannot allow His people to live normal lives in their sins. He is compelled to interfere and judge them that they might repent.